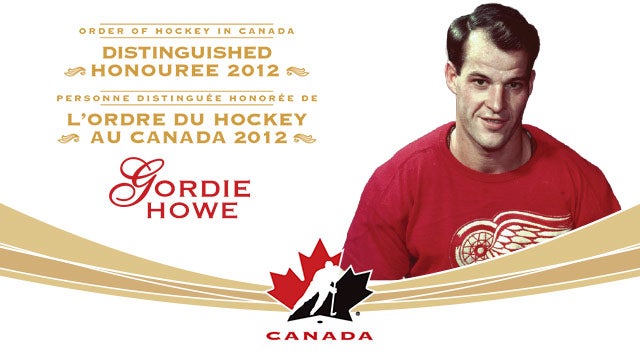 Hockey Accomplishments
• Played 33 years of professional hockey
• Finished in the top 5 in NHL scoring for 20 straight seasons.
• Played in his first NHL All-Star Game in 1948.
• A key member of "the Production Line", along with Ted Lindsay and Sid Abel
• Was selected to 21 NHL All-Star squads, 12 times to the First Team.
• Led the NHL in scoring to capture the Art Ross Trophy six times
• Won the Hart as the league's most valuable player six times.
• Won the Stanley Cup four times as a member of the Detroit Red Wings .
• Topped 100 points in a season for the first time in 1968-89, when he was 41,registering 44 goals and 59 assists
• Was also among the top 10 scorers in 1969-70, but arthritis in his left wrist finally forced him to the sidelines following the 1970-71 season, his 25th in the league.
• Holds an incredible 14 NHL records including games played (1,767) and most NHL all-star game appearances with 23.
• Represented Canada at the 1974 Summit Series against the Soviet Union.
• In 1973, Howe came out of retirement to play with two of his sons, Mark and Marty, with he Houston Aeros of the World Hockey Association
• When the WHA merged with the NHL in 1979, Howe, age 51, played one final season, competing in all 80 games of the schedule with the Hartford Whalers.
• Played in the 1980 NHL All-Star Game, after being appointed by coach Scotty Bowman.
• Howe played professional hockey in a sixth decade in 1997, appearing for one shift with the Detroit Vipers of the International Hockey League.
• For multiple generations, Gordie Howe is not only Mr. Hockey, he is hockey.
---
Additional Background
• Was born in Floral, Saskatchewan and moved to Saskatoon at nine years old.
• Nickname – Mr. Hockey
• Is part owner of the Vancouver Giants of the Western Hockey League.
---
Honours
• Was given the Order of Canada in 1971
• Inducted into the Hockey Hall of Fame in 1972
• Inducted into Canada's Sports Hall of Fame in 1975
• Given a star on Canada's Walk of Fame in 2000
• Received an Honourary Doctor of Law from the University of Saskatchewan in 2010.