Female Hockey Breakthrough Award
Outstanding contribution to advancing female hockey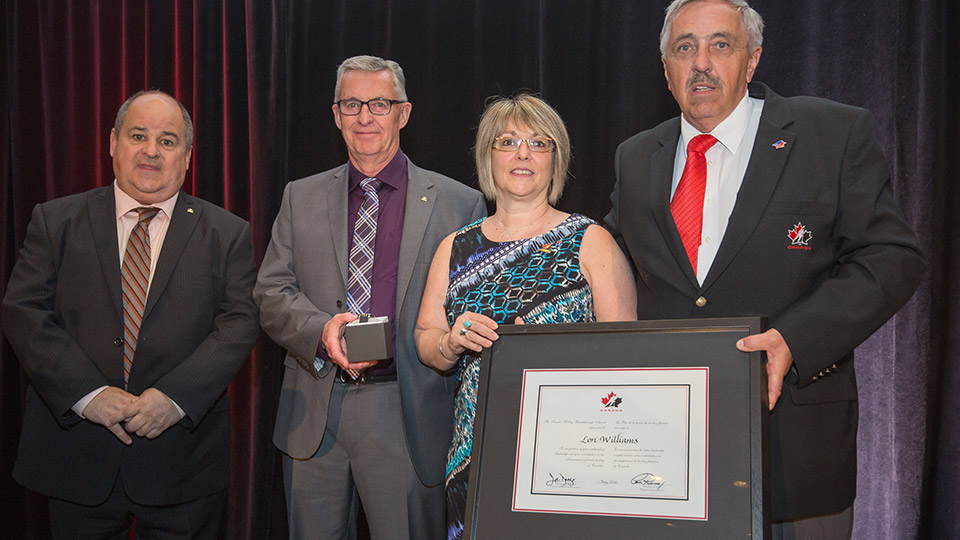 Lori Williams
Jennifer Williams deserves an assist for the growth the female game has seen this century in southern New Brunswick. In 2001, Jennifer began playing with the River Valley Female Hockey Association. Her mom, Lori, joined her, as the association's ice scheduler. Fifteen years later, Lori is still at the rink. For never being one to sit on the sidelines, Lori Williams is this year's recipient of the Female Breakthrough Award.
Lori spent four years on the River Valley executive; as one of only five board members, she was an active voice early, speaking on behalf of the women's game.
In 2005 she moved to the league level. The Southern New Brunswick Female Hockey League fostered play between the four existing female associations in the area. Lori served two years as treasurer, two years as president and one year as past-president, all the while staying involved with River Valley.
She was also becoming an even more active advocate for growing the female game, organizing Esso Fun Days and encouraging other MHAs to ice female teams of their own. Today 23 teams play across the league's four divisions.
In 2008, River Valley applied to host the Peewee provincial tournament. When no other MHAs came forward for the other divisions, Hockey New Brunswick asked River Valley to host everyone. Lori quickly jumped on board, and for the next six years was part of the host organizing committee for the Peewee, Atom, Bantam and Midget female provincial championships.
Lori and the organizing committee recognized that hockey is as much about the game on the ice as the bonds formed off of it. One of the highlights of the tournament is the Saturday night skills competition and pizza party, which has fostered friendships among the competitors.
Having helped the game grow in various parts of the province, Lori recognizes divisions are now strong enough on their own and in her new role as commissioner is encouraging the tournament be split so more communities can see the female game firsthand.
By the fall of 2008, River Valley had a large number of girls aging out of Midget but still wanting a place to play. Lori initiated the development of a senior program, which has since grown to four teams that compete in a league with other senior squads from the southern part of the province.
The following year Lori took to the ice herself with River Valley's Mod Squad. The modified program had first-timers practicing for the first half of the season, playing for the second half. The program continues to run.
Hockey New Brunswick appointed Lori its Female Commissioner at the start of the 2010-11 season. In her continuing role, she's ensured a female commissioner meeting at the member's fall forums, semi-annuals and AGMs.
In 2011, she played a key role in updating the NBMHC Female Policy and created the Hockey New Brunswick All-Female Action Plan. In 2013, Hockey New Brunswick recognized Lori with its Female Breakthrough Award.
One of Lori's favourite quotes is, "If you build it, they will come." Thanks to the building Lori has done, more girls and women are coming to rinks throughout southern New Brunswick. All the while, she's never left home, continuing to hold the position of ice scheduler at River Valley 15 years after following her daughter to the arena.
---
Liz MacKinnon Award
Contribution spéciale du conjoint ou de la conjointe d'un bénévole du Hockey Canada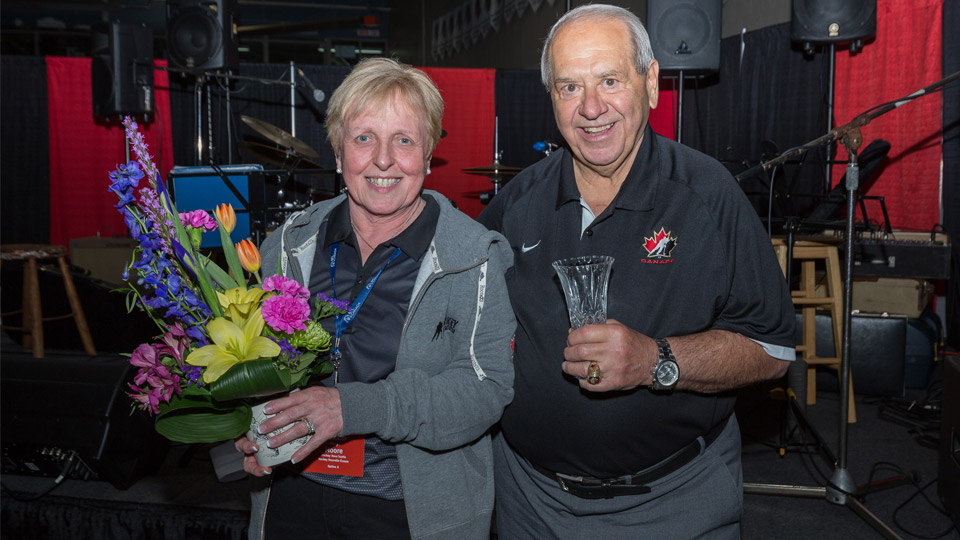 Mary Moore (Sydney, N.S.)

---
Gordon Juckes Award
Contribution to national development of amateur hockey in Canada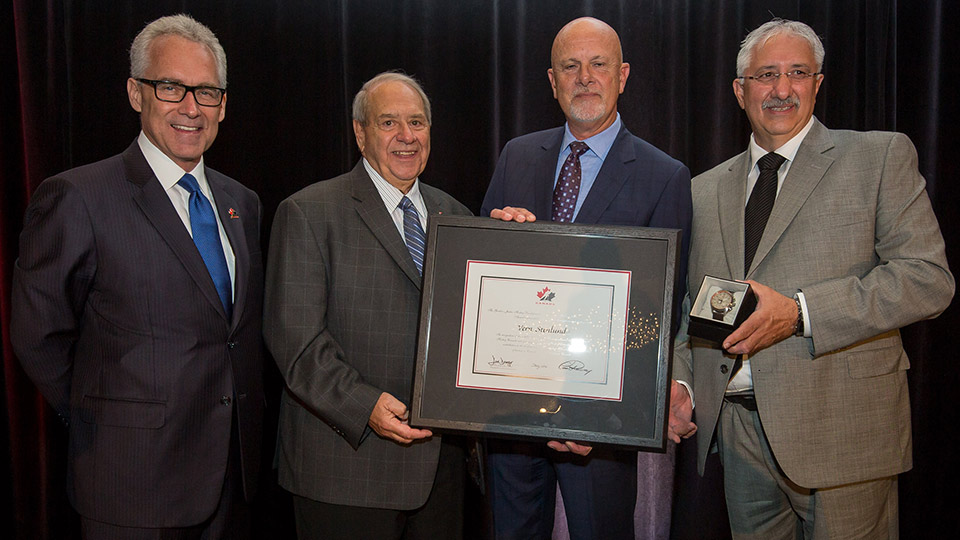 Vern Stenlund
Coach. Teacher. Author. Mentor. No matter what his role, Vern Stenlund has always performed it in the name of the grassroots game. For 35 years of dedication to developing amateur hockey in Canada, Vern Stenlund is the deserving winner of the Gordon Juckes Award.
Before committing more than three decades to growing the game he loves, Vern enjoyed a stand-out junior career with the London Knights. He was taken in the second round of the 1976 NHL Entry Draft by the California Golden Seals, and played with the Cleveland Barons during the 1976-77 season. After spending the 1980-81 season in Norway, Vern hung up his skates and rededicated himself to growing the game at the amateur level in his home province of Ontario.
Over a 25-year coaching career, Vern stood behind the bench at the Junior B level, with the Leamington Flyers, Windsor Bulldogs and Chatham Maroons; at the OHL level, with the Windsor Spitfires; and at the CIS level, with the University of Western Ontario Mustangs and University of Windsor Lancers.
Equipped with a master's and doctorate in education, Vern was a teacher both on and off the ice at the University of Windsor. In 2014, he retired after 29 years as an associate professor in the faculty of education.
While Ontario has always been home, Vern has built the game beyond those borders. He's published six books on skill development and coaching – instructing on scoring, controlling the puck, skating, and passing and receiving – as well as articles for players of all ages and abilities, and been an avid workshop presenter and guest speaker on all matters that pertain to the sport.
He's been both a member and chair of the Hockey Canada Mentorship Committee. He held the same positions with the Athletic Development Committee. Joining on a group responsible for all aspects of player development in the country proved the perfect fit for someone who recognized that success wasn't just about international gold medals. Most of the players Vern worked on behalf of played in house leagues and simply shared his love of the game.
He's also been active with the National Coach Mentorship Advisory Council, the Parent Education Advisory Group, the Hockey Canada Development Resource Group and Hockey Development Council.
Vern was instrumental in the creation of the Chevrolet Safe and Fun Hockey Program. By providing five-year-olds with their helmets, Vern helped promote not only the importance of playing safe while having fun from the first step on the ice, but also the values of respect and responsibility.
Vern was named a Master Mentor Coach by the Ontario Hockey Association and has continued to be a key contributor in the High Performance 1 program, sharing his expertise on team building and coaching pathways.
Any role that's needed to be filled, Vern has always been happy to play the part. He's served as the commissioner for an online coaching site, as a consultant and scriptwriter for introduction to hockey videos, as an editor for Hockey Canada instructor manuals and as a data collector for junior hockey research projects.
---
Officiating Award
Outstanding contribution to officiating at the branch and national levels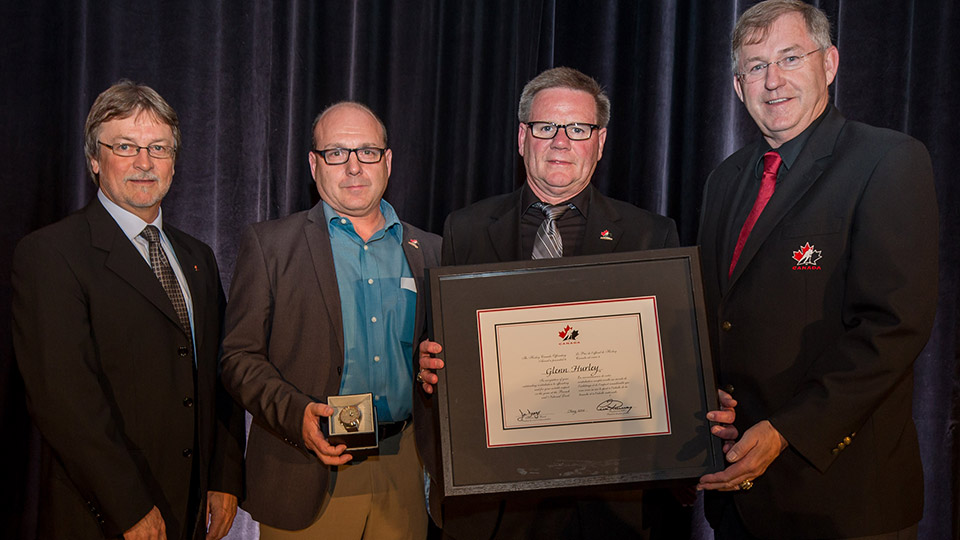 Glenn Hurley
For 20 years Glenn Hurley skated up and down around rinks in New Brunswick, whistle at the ready. For nearly 20 more he's stood just off the ice, ready with words of advice and encouragement to those who've come after. Whether watching the game from on the ice or from up high, Hurley has left his mark on how the game is called and for this he is the recipient of Hockey Canada's Officiating Award.
Glenn's involvement in hockey goes back more than five decades, to when he first took up the game as a nine-year-old and continued to play through Junior A.
In 1977, he traded in sweaters for stripes. Over the next two decades, Glenn devoted countless hours to overseeing games at all levels. He eagerly moved through the system and in 1988 received his Level VI certification, the highest level possible for a Canadian official.
His on-ice career was highlighted by being selected to officiate the 1992 Allan Cup, Canada's National Senior Championship, in Saint John.
Over his two-decade on-ice career, Glenn established himself as one of Hockey New Brunswick's top officials, being called upon to work games at the Junior A, Senior AAA and Atlantic University Sport levels. He also established himself as one of the top officials, period, by having his name called to work international games at the highest levels.
In 1997, Glenn stepped off the ice and into the role of referee-in-chief for Hockey New Brunswick, a position he held until 2010. In 13 years he oversaw officiating at 11 Atlantic Challenge Cups, as well as the 2002 Air Canada Cup, Canada's National Midget Hockey Championship, while sitting on the provincial organization's board of directors.
During his time as referee-in-chief, three graduates of the member's Officiating Program of Excellence – Chris Lee, Ghislain Hébert and Jean Hébert – advanced to the ranks of professionals. All have credited Hurley for helping with their development; the trio has gone on to call more than 1,200 regular season and playoff games in the National Hockey League.
After stepping down as referee-in-chief, Glenn spent three years as a member of the National Officiating Support Committee. All told, Glenn devoted 16 years of service to the national level, in addition to his work as a member supervisor at the provincial level.
Glenn still works tirelessly within Hockey New Brunswick today, assisting with the member's senior officials in Saint John, as well as supervising at the Junior A, B and C levels, Major Midget, and high school and university. Once a week he even still takes on a game himself.
In 2011 Glenn was recognized with Hockey Canada's Order of Merit. After nearly 40 years dedicated to fair play and paying it forward, he's equally deserving of this second honour.
---
Hockey Canada Order of Merit (Atlantic)
An individual who has served amateur hockey faithfully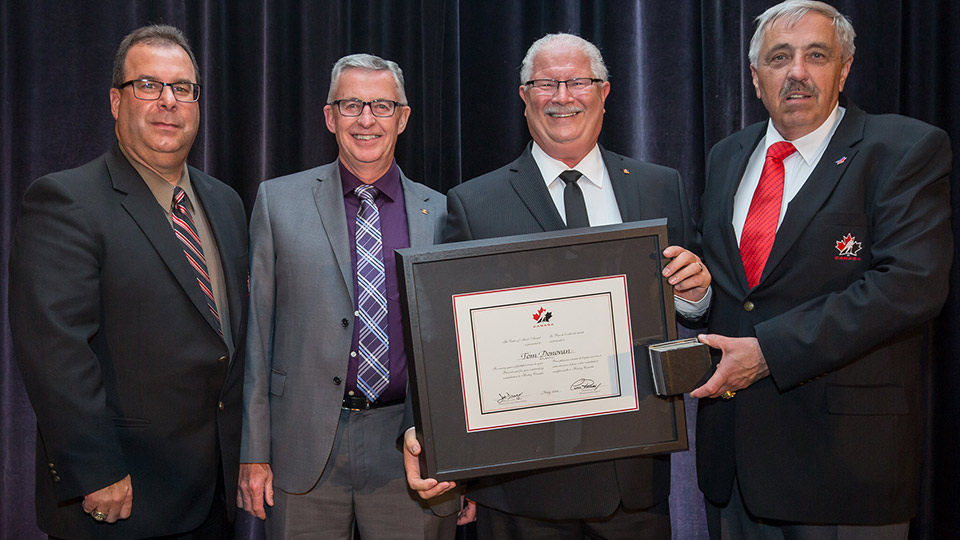 Tom Donovan
Like so many others, Tom Donovan's love affair with hockey began by simply playing the game. What's come to set him apart, though, is how he took that passion and turned it into lifetime of service to the game, a path that's led to him receiving the Order of Merit.
Once his playing days were done, Tom first committed himself to coaching at all levels of minor hockey. Not content to offer his time to one part of the Saint John hockey community, Tom also spent six seasons coaching at Saint Malachy's Memorial High School.
Tom was just as dedicated away from the ice. He was a national instructor and Master Course conductor for both the Initiation Program and the National Coaching Certification Program, and was the North Branch Area Hockey Association's representative on the National IP Committee for six years.
Never one to rest on his laurels, Tom continued to look for ways to improve in order to help further develop the players he worked with. For many years he was an active attendee of National Master Course conductor workshops.
As much as Tom did on the coaching side, it's on the administrative side where he's truly left his mark.
He served five years as the president of the Kennebecasis Valley Minor Hockey Association, during which time Hockey New Brunswick once named it its MHA of the year.
He's sat on or chaired innumerable councils and groups dedicated to building the game in Atlantic Canada, including the New Brunswick Minor Hockey Council, Hockey Canada's Atlantic Regional Centre and Hockey Canada's Athletic Centre of Excellence, to name just three. In 1999, he represented the North Branch Area Hockey Association at the Open Ice Summit in Toronto.
Tom has been just as staunch in his support for the game nationally. He sat for five years on Hockey Canada's Minor Council, serving on just as many committees, including the National Initiation Program Committee, Air Canada Cup Funds Committee and Parents Advisory Committee.
In 2002, Tom ascended to the presidency of Hockey New Brunswick, a post he held for 10 years. During this time he was also a member of Hockey Canada's Board of Directors. Between the two positions, Tom helped grow the game at the local, provincial and national levels.
Twice, in 1996 and again in 2012, Tom was recognized with Hockey New Brunswick's J. Charles Daigle Award. The honour recognized his character, his dedication to the sport and his contributions to improving the game within his home province.
And his impact at home has not gone unnoticed by those outside the hockey world. In 2002, Tom was bestowed the Queen's Golden Jubilee Medal for his outstanding community involvement.
Hockey in Saint John would not be what it is today without Tom's endless and unselfish efforts.
---
Hockey Canada Order of Merit (Central)
An individual who has served amateur hockey faithfully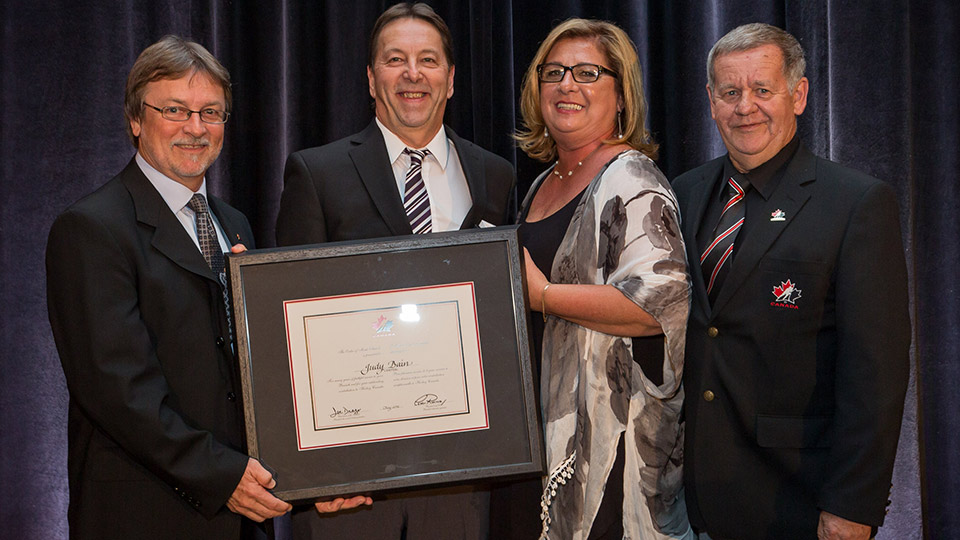 Judy Bain
Judy Bain found a home in the hockey community later than most. Her son was playing Novice, and Judy attended a Lake of the Woods Minor Hockey council meeting to voice some concerns. She left that evening as the association's president. Twenty-three years have come and gone and Judy is still speaking up on behalf of players, and for this she has earned Hockey Canada's Order of Merit.
Judy served as Lake of the Woods president for four years before transitioning in 1998 to a zone director role with Hockey Northwestern Ontario, a position she still holds.
Her initiation to the executive side of the game coincided with her introduction at ice level. Judy spent a decade coaching in Lake of the Woods, five of those years guiding her daughter's team.
Fully enveloped in the hockey world, Judy wanted to share what she'd learned with others. For 11 years, from 2002 to 2013, she was a trainer course conductor.
She continued to take on more responsibility within Hockey Northwestern Ontario, being elected the member's vice-president in 2005 and adding the Minor Convenor position to her portfolio a year later.
In 2009, Judy ascended to the HNO presidency. During her six-year tenure she also sat on various committees for Hockey Canada, having a big say in matters of insurance, governance and program standards.
In 2013, she co-chaired the TELUS Cup West Region championship in Kenora, Ont. The following year she served on the host organizing committee for the provincial high school girls' hockey championship.
For Judy, though, her two biggest points of pride were chairing a pair of national championships, the 2004 TELUS Cup, Canada's National Midget Championship, and 2011 Allan Cup, Canada's National Senior Championship.
She also delighted in seeing more females taking an active role behind the scenes. No doubt those who've now joined the game beyond the boards were inspired by seeing the work done by the women who came before them.
Even as she was busy completing her final year as Hockey Northwestern Ontario president, Judy still volunteered her time with Lake of the Woods. From her position in the penalty box, she had a front-row seat to the sheer joy written all over the kids' faces as they skated by. The seeds to this scene had been planted more than 20 years earlier by a mom looking out for her kid – and by extension every kid, young and old, wanting to be a part of the game.
Still anxious to be active after stepping down as president last year, Judy took on the role of Junior Convenor, in addition to past-president, of Hockey Northwestern Ontario this season.
Judy has long held to the belief that if you always do what's best for the player, you'll never go wrong. Those in Northwestern Ontario – and, in fact, everyone involved in the game across Canada – have long been the benefactors of Judy basing her decisions on this guiding principle.
---
Hockey Canada Order of Merit (West)
An individual who has served amateur hockey faithfully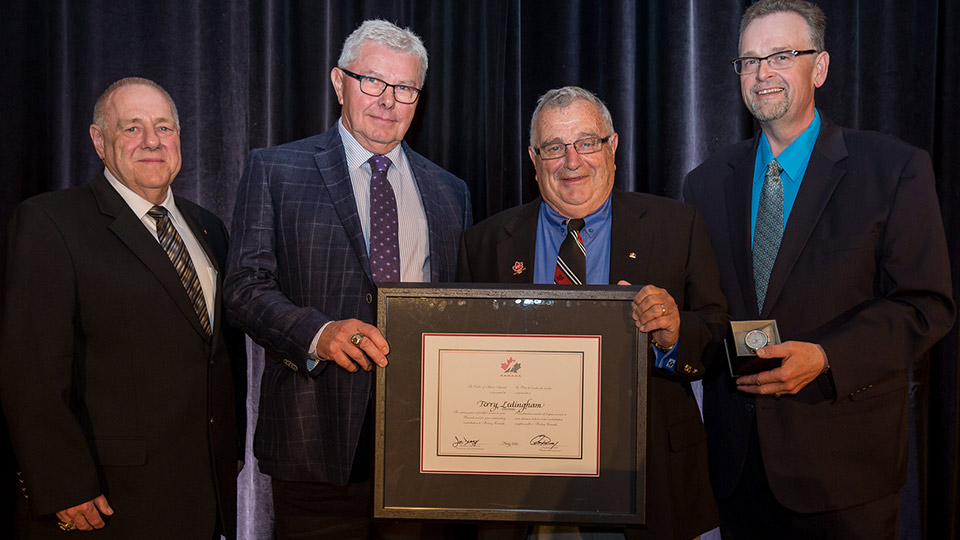 Terry Ledingham
Terry Ledingham always wanted to make a difference in the game. In the beginning, that meant the self-described rink rat sold tickets and programs and did security for the Junior A Crosstown Motor City Maple Leafs. Nearly five decades later that meant sitting on the Board of Directors for the sport's national governing body. For this lifetime of devotion to – and indeed, making a difference in – the game, Hockey Canada is proud to present its Order of Merit to Terry Ledingham.
Since that first foray to the rink in 1967, Terry has created a lifetime of hockey memories not only for himself but for thousands of kids across Alberta. He's been an equipment manager and a trainer, a road manger and a registrar, a sports director and a coach, the vice-president of a hockey league and the president of a minor hockey association.
In 1997, Terry took his first position with Hockey Alberta. Three years sitting on the Zone 2 Minor Council were followed by three more as the zone's director. After two-year terms as Hockey Alberta vice-president of operations and vice-president of development, Terry was elected president. Terry went on to serve five years on Hockey Canada's Board of Directors.
The success stories started early for Terry. He worked with his home community of Bon Accord, as well as the neighbouring Gibbons, to form one minor hockey association, ensuring that the residents of the two small populations would have teams to call their own.
By the time he became a zone chairman for Hockey Alberta in the late 1990s, he was overseeing 39 minor hockey associations with teams spread across nine different leagues, handling registration, travel permits, discipline, clinics and provincial tournaments. In this role, Terry helped form a pilot project, Zone Team, to improve how operations are run in each zone.
When it comes to how the game is played, Terry has always understood that it's not just fun first; it's fun and safety first. Over the years he's sat on committees dedicated to body-checking review, discipline and match penalties, he chaired the Risk and Safety Committee and he presently sits on the Second-Stage Appeal Committee for Hockey Alberta.
As Hockey Alberta's vice-president of development he worked on a project that examined why body-checking should be taken out of lower levels of hockey. His concern and attention to detail extended beyond those who jump over the boards. As Hockey Alberta president, in 2008 he oversaw the mandate that all coaches, trainers, guest coaches and volunteers wear a helmet when on the ice during practice.
In his role as president, Terry accomplished two of his proudest achievements: opening up the first regional development centre in Grande Prairie and setting up an agreement with Hockey North that allowed their kids to come south and play at a higher level in Alberta.
In recent years Terry has taken great pride in working both with players at Hockey Canada's national events and with national teams at IIHF events. In 2010, he was the board rep with Canada's National Women's Under-18 Team, the year the team won its first IIHF Women's World U18 Championship.
---
Outstanding Volunteer Award
Outstanding contribution to amateur hockey and Hockey Canada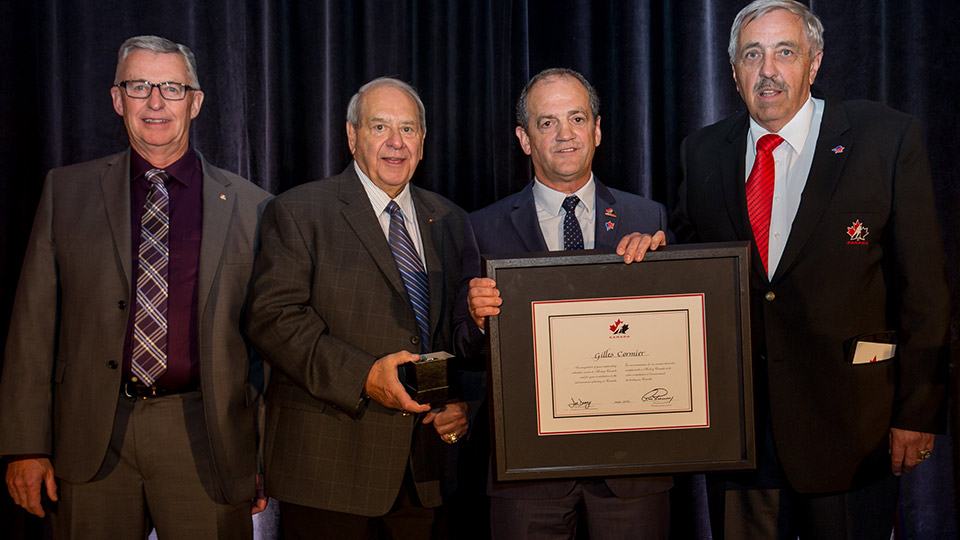 Gilles Cormier
Over the past 30 years one name has become synonymous with hockey in the Acadian Peninsula: Gilles Cormier. As a player, Cormier frequented the rinks throughout northeastern New Brunswick. As a coach and executive, he's paid it forward to his corner of the hockey world, and for this he is the deserving winner of the Hockey Canada Outstanding Volunteer Award.
Gilles played his minor hockey in Caraquet, his Junior hockey in Shippagan and Dieppe-Memramcook. After university, he returned to the Acadian Peninsula and for the next 15 years played for Shippagan at the senior level. Today, Gilles is as competitive as ever playing in the town's commercial league.
His coaching career started when his competitive career ended. It brought gold medals – a pair of Maritime championships in Shippagan – but, more important, it connected Gilles with players of every age and at every level.
As minor hockey coach, he guided teams in every division from Initiation to Bantam AAA. He spent several seasons leading a Senior AAA team in Paspébiac. And in years when a team had trouble finding a coach, Gilles simply stepped behind the bench himself. In his eyes, time was the least he could give to ensure that any player who wanted to play, played.
A life-long student of the game, Gilles delighted in coaching a high school boys' team in Shippagan and the Université de Moncton campus de Shippagan's women's team. Taking pride in his role as a teacher and leader, Gilles also organized his own hockey school and offered his time at others.
His efforts extended beyond the bench as well. For years, Gilles organized and fundraised for local Peewee and Bantam AAA teams.
For more than 25 years, Gilles has been the senior rep on the ROC 7 council and a member of the Senior Council for Hockey New Brunswick. He took great pride in being a Hockey New Brunswick representative at the 2015 Allan Cup in Clarenville, N.L., when a team from his province, Lameque Au P'tit Mousse, competed for Canada's National Senior Championship.
Over that same time he's been involved in Lamèque-Shippagan's annual Peewee tournament. On the event's 50th anniversary in 2014, Gilles was offered the presidency in recognition of his two-decade-long commitment to the event's success.
In recent years, Gilles' focus has turned to honouring a hometown hero who inspired a province. He's the vice-president of an annual golf tournament held in Luc Bourdon's name, a fundraiser for kids throughout the Acadian Peninsula.
He's also the organizer of a AAA tournament held in Bourdon's honour, where Peewee, Bantam and Midget teams showcase their level of hockey to other players in the region.
Those who know him say Gilles lives by hockey and for hockey. Even today Gilles will take a quiet moment to slip into the rink and watch a minor hockey practice or simply chat with players or coaches.
---
Hal Lewis Award
Hockey Canada staff person of the year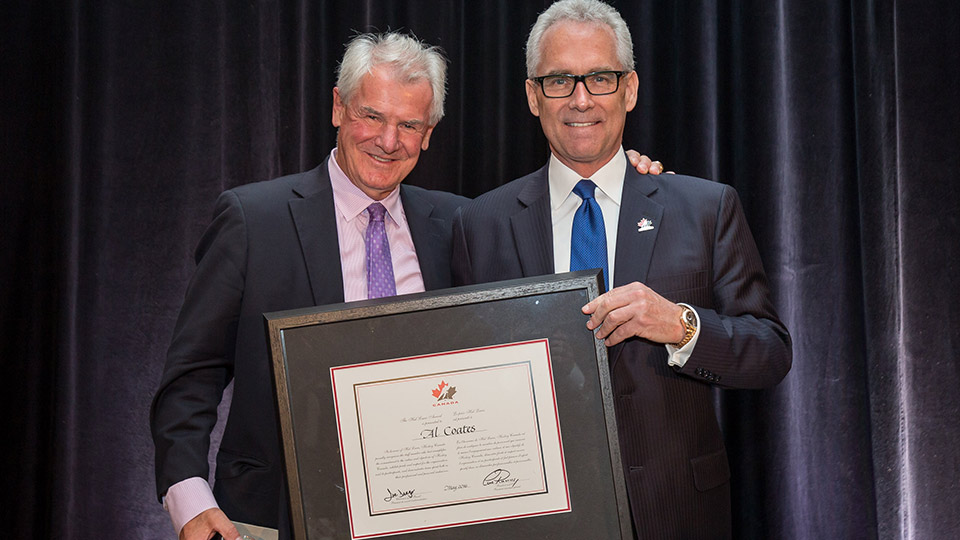 Al Coates
is the 2016 recipient of the Hal Lewis Award, as voted on by Hockey Canada's employees. His colleagues at Hockey Canada lean on Coates to provide fresh perspectives that pull from his more than 40 years of involvement with the game, as well as a calm and positive outlook, and his friendly, outgoing personality that keep the work environment fun and fresh at all times. In addition to his role with Hockey Canada, which has included everything from events to working with the Hockey Canada Foundation, Coates is chair of Comrie's Sports Equipment Bank, whose primary goal is to gather, recycle, and redistribute sporting equipment at no cost to kids who would otherwise be denied the opportunity to participate in sport.