Outstanding contribution to advancing female hockey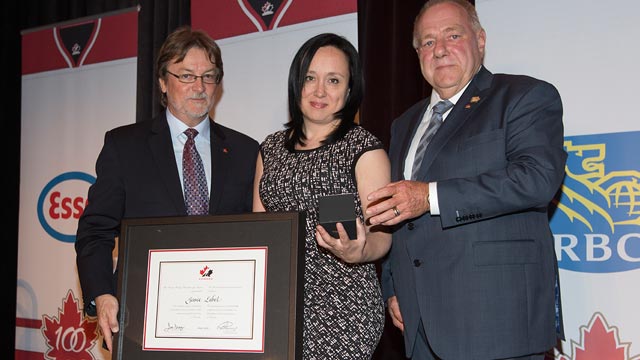 Josée Lebel (Montreal, Que.)
Eight years ago, women's hockey in Quebec took a giant stride forward thanks to the path created by Josée Lebel. Since 2007 Josée has been at the forefront of the development of the female game at all levels of play – locally, regionally and provincially – and for this she is the recipient of this year's Female Breakthrough Award.
Josée first became involved in minor hockey in La Belle Province in 1989 as an official. Over the next decade she volunteered her time in local rinks, being named regional referee of the year in 1992 and obtaining her Level 3 certification in 1997.
In 1999 Josée became a full-time hockey mom, cheering her kids on from the stands and staying involved at the Initiation level with her daughter.
By 2007 she committed herself entirely to girls' hockey. That year she founded the Rebelles du Saguenay, the first female hockey program in the region. It was just what young local girls were looking for. After a successful first year gave a group of Peewee girls a team to call its own, Josée was able to ice four Rebelles teams – one Atom, two Peewee and one Bantam – for the 2008-09 season
As the popularity of hockey grew among girls in Saguenay-Lac-Saint-Jean, Josée tirelessly fought for equal ice time with boys' teams and promoted the women's game. She secured a three-year deal with the Association hockey mineur de Chicoutimi for ice time at the start of the 2009-10 season and had the Rebelles recognized as an independent hockey association.
In 2011 Josée launched her program's first elite team at the AA level. Only one year later – and only five short years after bringing girls' hockey to the community – Josée and the Rebelles were provincial champions. At the 2012 Esso Cup the team finished fifth among the best female Midget teams in the country.
With the foundation for female hockey in Saguenay laid, the region welcomed the best players in the country for the 2011 National Women's Under-18 Championship. Josée was instrumental in bringing local businesswomen on board as organizers, sponsors and team hosts.
Seeing younger girls gravitate toward playing with the boys – and some divisions not being able to put together a team – Josée made it her mission to encourage girls to stick together. Thanks to a grant from the Canadian Association for the Advancement of Women and Sport and Physical Activity, Lebel launched a program to improve recruitment and encourage more MAHG, Novice and Atom age girls to continue in female hockey.
In 2012 Josée was charged with overseeing the provincial Midget AAA program, as well as the new interregional female league.
Josée continued to help shine the spotlight on women's hockey in her home province by helping organize the fourth annual Midget AA Showcase in Saguenay, held during World Girls' Hockey Weekend this past October. By giving players a venue to demonstrate their skill and talent to college and university recruiters, Josée helped open avenues to a future both on and off the ice for hundreds of girls.
Please welcome this year's winner of the Hockey Canada Female Breakthrough Award, Josée Lebel.
---
Liz MacKinnon Award
Spousal award of a Hockey Canada volunteer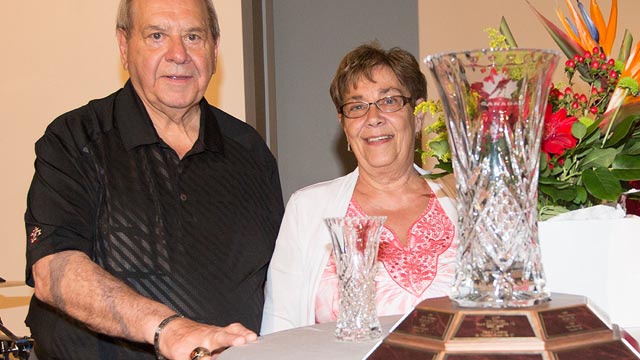 Karen Pupich (Schumacher, Ont.)
---
Contribution to national development of amateur hockey in Canada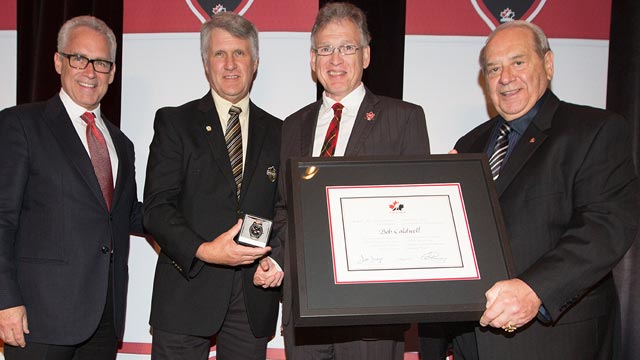 Bob Caldwell (Deloraine, Man.)
You could fill several pages listing all the accomplishments and contributions Bob Caldwell has made to the game of hockey. Past chairman of the Hockey Manitoba Coach Development Committee, Master Mentor Coach for Hockey Manitoba and member of Hockey Canada National Coach Mentorship Program Advisory Council are just three of the six titles he presently holds. For 40 years of dedication to developing amateur hockey, Bob Caldwell is the deserving recipient of this year's Gordon Juckes Award.
Bob has gone from being a local coach in rural Manitoba to a respected mentor throughout Canada and abroad. He has spent the past four decades criss-crossing the country – and the globe – in an unending quest to provide support and direction to those who volunteer their time behind the bench.
Since 1979 Bob has attended or facilitated more than two dozen coaching courses or seminars. His willingness to improve his own knowledge base, and then, in turn, share what he's learned with others has truly benefitted the hockey community and the coaching community at large. Over the years the student happily became the teacher for Hockey Manitoba, the Coaches Association of Canada and the International Ice Hockey Federation, among others.
As an executive, Bob has sat on councils and committees at the local, provincial and national levels. From 1986 to 1995, while still active as a coach, he was a member of the Deloraine Minor Hockey Executive Council. During those years he also coached and served executive roles in local baseball. In 1994 he was named Manitoba 3M Coach of the Year for his achievements on the ice and on the field.
Bob has sat on the Hockey Manitoba Coaches Development Committee since 1997, the last 15 years as chairman. Shortly after joining the executive Bob began creating a Coach Support series for the branch's National Coaching Mentorship Program. Over the next decade he helped guide the way on best practices for teaching puck control, shooting and scoring, and developing defenceman, among other important lessons for coaching the game.
In recent years Bob has worked with Hockey Canada as an on- and off-ice instructor for its skills development video series, served on the Athlete Development Committee and been selected as a skills coach for the Program of Excellence's under-17 program. Bob has also represented Canada globally as both a IIHF youth skills camp leader and as part of the governing body's coach development exchange program.
Even as Bob has transitioned to the national and international stage, he's still home every Wednesday to lead the Deloraine Breakfast Club. This weekly get-together allows players of all ages and skill levels the chance to enjoy a hot meal and time on the ice. Bob developed the Breakfast Club concept for the National Coaching Mentorship Program.
Throughout his hockey life Bob has been a facilitator, scout, mentor, coach and executive – but mere titles can't properly articulate what he has meant to the game.
Congratulations to this year's Gordon Juckes Award winner, Bob Caldwell.
---
Outstanding contribution to officiating at the branch and national levels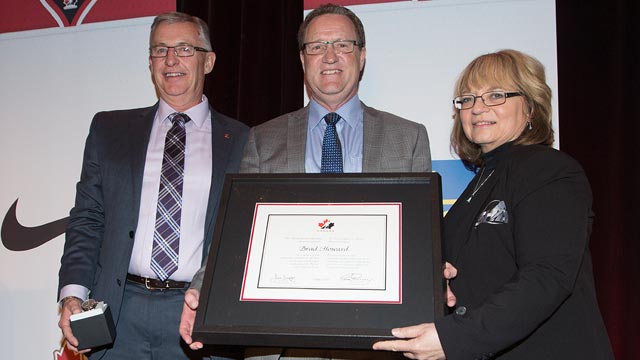 Brad Howard (Regina, Sask.)
Brad Howard has literally helped write the book on officiating. In recognition of his 40 years of on- and off-ice leadership and dedication to improving officiating, Hockey Canada is pleased to present Brad with its 2015 Officiating Award.
Brad's contributions to the game have come in a trifecta of roles: active official, administrator and supervisor. Over the past four decades he's worked local assignments in rinks in Regina, held the highest administrative level in Saskatchewan and supervised Level 6 officials on the national stage.
In 1974 Brad earned his certification stripes. Five short years later he was a Level 6 official and calling games in the Saskatchewan Junior Hockey League and Western Hockey League. His work didn't go unnoticed by those at the national level. Brad got the call to work the Air Canada Cup in 1985 as well as a pair of Canada West university finals and the CIS championship a few years later.
All the while Brad was making his mark – and a difference – behind the scenes. His involvement with the Saskatchewan Hockey Association – as a clinic instructor and branch supervisor – began in 1983 and continues to this day. He added executive responsibilities to his plate in 1996, first in a pair of coordinator roles for five years, then as the Southern Representative of Officials for the next eight.
Looking to do his part to develop the sport he loves, Brad also served as a supervisor not only for the Saskatchewan Hockey Association, but also for Level 4 and 5 officials. Fifteen years later he still supervises his home province's elite officials, as well as acts as a clinic instructor.
Brad was elected referee-in-chief for the Saskatchewan Hockey Association in 2010, a post he held for three seasons.
Brad has also worked tirelessly for his hometown. The same year he started serving off the ice provincially, he became actively involved with the Regina Officials Association as a supervisor, a post that for 18 years – plus four more as the group's president – has allowed him to mentor his fellow officials.
Involvement on the national stage for Brad first came in 1997, as one of the committee members who helped create "Speak Out," a program designed to educate and prevent bullying, abuse and harassment in hockey.
He continued to lay the foundation for officiating with his role in the development and creation of the first Junior Workbook, as well as the Intermediate and Senior Workbooks.
A national supervisor for Hockey Canada since 2000, Brad has been appointed to numerous national events. He was selected as referee-in-chief for the 1999 Royal Bank Cup and has been called upon three times for the World Under-17 Hockey Challenge, twice as a referee-in-chief and once as a supervisor.
Brad continues to do his part to train future generations of officials as a facilitator at Hockey Canada's Master Course Conductor Seminars, sharing what he's learned about effective communication, penalty selection and positioning.
Ladies and gentleman, please welcome this year's winner of the Hockey Canada Officiating Award, Brad Howard.
---
An individual who has served amateur hockey faithfully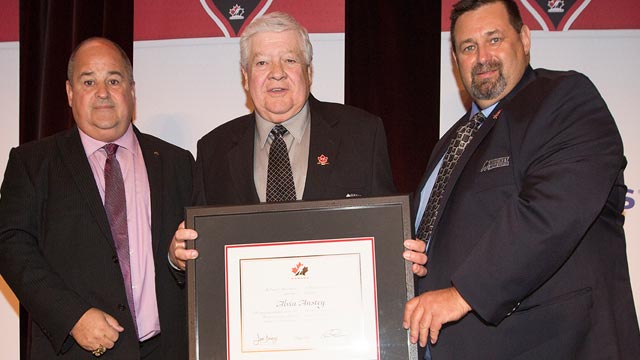 Alvin Anstey (Dartmouth, N.S.)
Any conversation about junior hockey in Nova Scotia wouldn't be complete without mentioning one name: Alvin Anstey. For nearly 40 years Alvin has devoted himself to the development and advancement of junior hockey in his home province, and for this he is the deserving winner of the Hockey Canada Order of Merit.
Alvin got involved in the game for the same reason thousands of others do: he was a fan and just wanted to be part of the action. His first role was as a statistician for the Metro Valley Junior Hockey League in 1977. One year later he was named league vice-president, and two seasons after that, president.
As the driving force behind the establishment of the Nova Scotia Junior C Hockey League and the enhancement of the existing Junior B league, Alvin demonstrated innovation and a clear vision for advancing junior hockey at the grassroots level in Nova Scotia. The ongoing successes of both leagues can be directly attributed to Alvin. He recognized that Nova Scotia was populated with homegrown players who had the potential to prolong their hockey career at an organized, competitive level. He wanted them to have the chance to continue developing both individually and as part of a team.
Currently the province's Junior A, B and C leagues are looking to secure more ice in the hopes of accommodating a waiting list of teams eager to join the thriving scene Alvin helped start. The popularity of these leagues can be traced back to Alvin's endless work mobilizing and directing hundreds of his fellow volunteers to provide opportunities for youth in Nova Scotia to play hockey.
Alvin has always put the interests of those who step on the ice first. For years the Maritime Junior A Hockey League was considered a win-at-all costs league. Alvin made it his mission to help change that way of thinking. He oversaw the league's transition to a true junior development league, providing opportunities for players to continue their hockey and personal development and move on to higher levels of play.
Alvin was instrumental in the growth and sustainability of the Don Johnson Memorial Cup, the Junior B championship for Atlantic Canada, as well as the development and implementation of the Maritime/Hockey North Junior C Championship.
Alvin continues to play a hands-on role in the game in his present position as Junior Council Chair with Hockey Nova Scotia, visiting each team in the branch multiple times a year to listen to their concerns and see their successes.
Whether in his present role or in previous positions with Junior A organizations in East Hants, Scotia or Dartmouth, Alvin has always had a reputation as someone you seek for support and guidance.
Held in the highest regard not only by those who have had the pleasure of working with him but also by those who only know him by name, Alvin has been an exemplary example of a dedicated volunteer.
Ladies and gentlemen, please welcome the winner of this year's Order of Merit, Atlantic, Alvin Anstey.
---
An individual who has served amateur hockey faithfully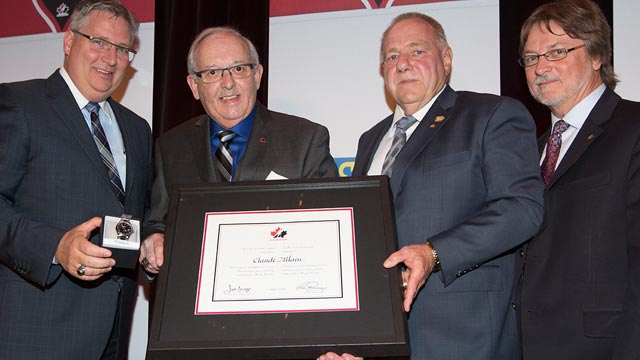 Claude Allain (Gatineau, Que.)
After more than 40 years in the game, Claude Allain's name is synonymous with hockey in Quebec. He's been a coach, an instructor, an administrator, an executive and an event coordinator in Gatineau, at the Olympic Winter Games and in rinks in between. This devotion and passion to the growth of the game has led Claude to be honoured with the Hockey Canada Order of Merit. The Gatineau Minor Hockey Association was the first beneficiary of Claude's dedication to developing well-rounded hockey players. He spent 14 years with the organization, serving at various times as a coach, coordinator, treasurer and director.
From there he set out to reach more players, spending the next eight years as the executive director, then vice-president of Hockey Outaouais. During this time he oversaw the rep divisions of the Outaouais Minor Hockey League. In addition to earning his Level 3 coaching certification, he was an instructor for both the national coaching program as well as the Risk, Conduct and Safety Management program.
In 1992 Claude was named president of Hockey Outaouais, becoming a member of the Hockey Quebec board of directors. In his new role he made immeasurable contributions to various technical, developmental and ruling commissions, and represented Quebec on Hockey Canada's minor, junior, senior, hockey development and female councils.
Long recognized and admired for his leadership Claude was instrumental in the organization of several important events, including the 1981 Daoust Cup, 1986 International Esso Cup, 1994 Chrysler Cup and 1998 Espoir Cup.
By this time Claude's contributions were being noticed beyond the hockey community. In 1999 the government of Quebec presented him with the Dollard-Morin Award for his outstanding volunteerism in the name of sports and recreation. The following year the provincial Ministry of Employment and Social Solidarity named him Administrator of the Year.
In June 2002 Claude was elected president of Hockey Quebec. Before the end of his four-year term he would be bestowed the Queen Elizabeth II Golden Jubilee Medal for his contributions to amateur sport.
A decade later, in 2013, he received the Queen Elizabeth II Diamond Jubilee Medal and was inducted into Hockey Quebec's Hall of Fame.
In 2005 Claude joined the Hockey Canada Board of Directors, a post he held for eight years. During that time he represented Hockey Canada at 22 national and international events, including the World Junior A Challenge, World Under-17 Hockey Challenge, IIHF Ice Hockey World Championship, IIHF Ice Hockey Women's World Championship, IIHF World Junior Championship and the 2010 Olympic Winter Games.
Claude has proudly represented Quebec amateur hockey at all levels of play, willingly accepting any challenges and taken on any tasks in the name of building a better and stronger game.
Please welcome the recipient of this year's Order of Merit Central, Claude Allain.
---
An individual who has served amateur hockey faithfully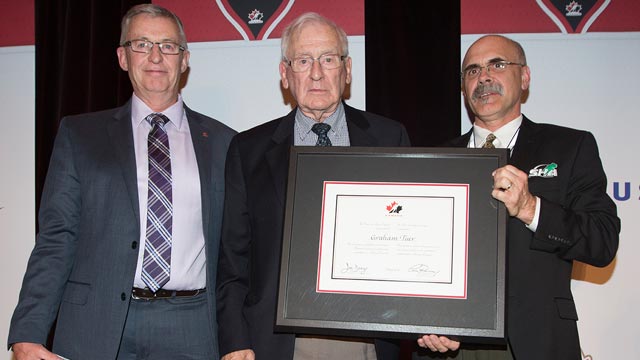 Graham Tuer (Regina, Sask.)
As a scout, Graham Tuer would sit in the upper corner of a rink, head down, pen to pad, content in his surroundings. But after five decades in roles too numerous to name – having made too many contributions to count – the man who prefers to operate unnoticed stands at centre ice, the recipient of Hockey Canada's Order of Merit.
Graham's involvement in the game goes back more than 50 years, when he first coached a Peewee team in North Battleford, Sask., during the 1960-61 season. Throughout the mid-1970s the now-retired government employee balanced work with volunteer duties as both a team manager and a member of the Regina Albert Park Recreation Association.
For Graham it was always about helping kids. The father-of-four got no greater satisfaction than seeing a player develop both on and off the ice. The way he saw it, his job was not only to mentor players but also to educate them on how to excel in life beyond the rink.
He took on his first executive role – with the Metro Minor Hockey Association in Regina – in 1971. Three years later he joined the board of the Regina Boys Hockey League and became manager of the Regina Pat Canadians. Under Graham's watch the team won gold and silver at the Air Canada Cup, Canada's National Midget Championship.
For the past 33 years Graham has been a board member of the Saskatchewan Midget AAA Hockey League, looking out for some of the best teenage players on the Prairies.
What Graham valued most in a player was his willingness to work hard – someone who devoted himself to the task at hand. Graham's willingness to do the same spurred his success not only in minor hockey but also once he transitioned to the Western Hockey League.
He was an assistant general manager with the Regina Pats, and has been a scout for his hometown team, as well as for the Moose Jaw Warriors, Tri-City Americans and Kelowna Rockets, with who he won a Memorial Cup.
In 2008 the Pats recognized Graham as one of their key builders, raising his name to the rafters at the Brandt Centre in Regina.
And the accolades kept coming: the Saskatchewan Hockey Association's Volunteer Award, the Sask Sport Volunteer Award, the WHL Distinguished Service Award and, in 2012, induction into the Regina Sports Hall of Fame.
A Bantam AA tournament in Regina now bears his name, an honour recognizing his time and devotion to developing hockey at home.
In addition to a continuing role as an advisor for the Saskatchewan Hockey Association, Graham now works tirelessly as a member of the Saskatchewan Development Model Committee. The group represents amateur hockey at various levels, with the purpose of always putting the player first.
Despite Graham's attempt to shun the spotlight, he can easily be found. Next time you're at the rink just look for the crowd of people gathered around to offer well wishes or simply say 'hi' to the man who keeps their sport in good hands.
Ladies and gentleman, please welcome Award of Merit West recipient Graham Tuer.
---
outstanding contribution to amateur hockey and Hockey Canada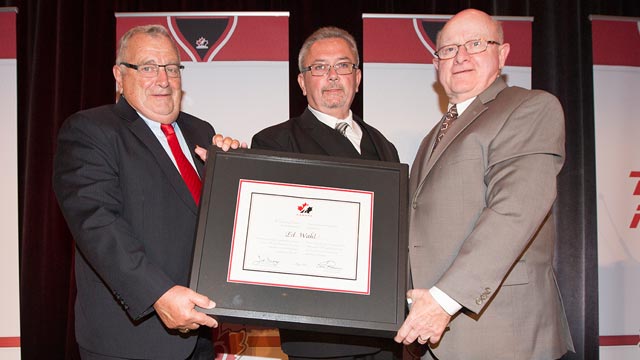 Ed Wahl (Scarborough, Ont.)
It's Scarborough, it's 1959 and a four-year-old Ed Wahl simply wants to skate. He couldn't have known that day would be just the first of more than 18,000 he would spend with the Cedar Hill Minor Hockey League in the Scarborough Hockey Association. For 50 years of dedication to building and promoting hockey in his community, Ed is the winner of this year's Outstanding Volunteer Award.
Like many Canadian children, Ed found a second home at the rink from a young age. As he got older, spending time at the arena as a player wasn't enough. He wanted to give back to a place that had given him an outlet for his athletic endeavours. In 1971, at the age of 16, he started volunteering his time as a referee.
Four years later, his playing career now complete, Ed started a new chapter with Cedar Hill as a coach. For the next decade Ed paid it forward, guiding the next generation of players.
After hanging up his coach's hat in 1985, Ed joined the Cedar Hill board of directors. Over the next seven years – in posts including Ways and Means Director, and Equipment Director – Ed's off-ice contributions helped improve the on-ice activities on the east side of Toronto.
Ed turned in his whistle in 1992 and moved off ice full time as the president of the Cedar Hill Minor Hockey League in 1994. He held the position until 2009, when the Scarborough Hockey Association ceased operations. By that time Ed had celebrated a diamond anniversary – 50 years of tireless devotion to his minor hockey association.
After taking a well-earned one-year break Ed was back on the scene, playing an instrumental role in merging seven of the eight Scarborough programs to form the Scarborough Youth Hockey League. About 1,100 players call the amalgamated league their hockey home. As its president, Ed negotiated better ice contracts, brought full corporate sponsorship to the program through the Bantam level and maintained registration fees for players even as the cost of renting ice has gone up.
In early 2014 Ed oversaw the inaugural Bauer Big Assist program. Fifty children in Scarborough were able to try hockey for the first time. At the end of the six-week program, Ed and his team registered 41 of the kids for full-time programming with the Scarborough Youth Hockey League for the 2014-2015 season.
Ed is also active both as the co-chair of the Greater Toronto Hockey League's marketing and sponsorship committee and as a member of its strategic planning committee. And this past summer he was recognized as a Canadian Tire Hero of Play, as Hockey Canada celebrates volunteers making a difference in their communities.
With Ed's grandson now registered with the Scarborough Youth Hockey League, a third generation of the Wahl family is enjoying Canada's game – and a second generation of hockey players in Scarborough is benefitting from all that Ed has given the sport.
Please welcome the recipient of this year's Outstanding Volunteer Award, Ed Wahl.
---
Hockey Canada staff person of the year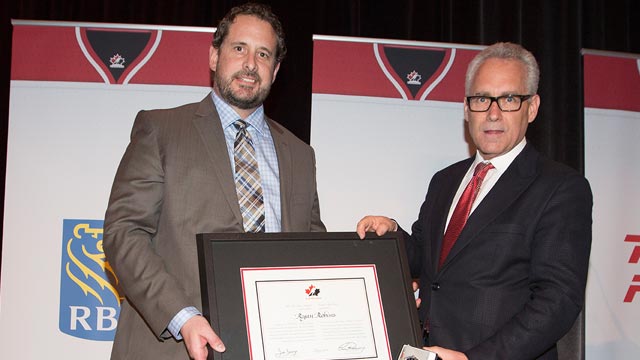 Ryan Robins (Tobermory, Ont.)
Since joining Hockey Canada in 2001, Ryan Robins has moved from being a coordinator in a regional office to a director overseeing international events on the world's largest hockey stages. Robins has been directly responsible for leading more than 50 events; under his watch record net profits were made at the 2009 World Under-17 Hockey Challenge and the 2010 Esso Cup, and new attendance marks were set at three straight Canada-hosted 4 Nations Cups. After playing an integral part in organizing the 2012 IIHF World Junior Championship, Robins seamlessly took over the leadership role for the 2015 World Juniors partway through the planning process. Working with staff and volunteers on the other side of the country, Robins oversaw the execution of this international event in Canada's two largest markets. His ability to communicate effectively with his coworkers, as well as host organizing committees, sponsors, volunteers, branches and federations has resulted in him building solid business and personal relationships across the country. A veritable vault of information, Robins has earned the respect and trust of his colleagues for his openness, dedication and professionalism. In addition to his contributions to Hockey Canada Robins has been a scout for the Tri-City Americans for the past 10 years. He does all this while being a devoted family man to his wife, Jennifer, and their kids, Hannah and Zachary.