Female Hockey Breakthrough Award
Outstanding contribution to advancing female hockey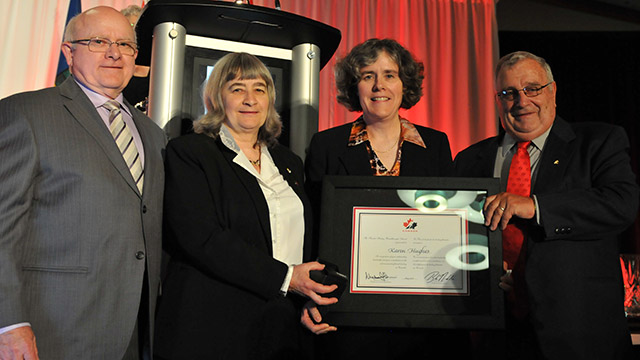 Karen Hughes (Scarborough, Ont.)
When it comes to women's hockey in Ontario, there are few involved in the game – players, coaches, officials or administrators – who do not know the name Karen Hughes. For almost 30 years, Karen has helped the women's game grow and prosper, and for this she is a deserving recipient of this year's Female Breakthrough Award.
Karen was introduced to the women's game in the late 1970s, watching the legendary Agincourt Canadians of the Central Ontario Women's Hockey League, which inspired her to get involved in the sport.
A standout in hockey and soccer, Karen attended the University of Toronto, where she excelled at both sports, earning CIAU All-Canadian honours in soccer in 1986-87 while captaining the Varsity Blues' women's hockey team in the same season.
It was on the ice, though, where she was at her best. During her time in the Varsity Blues' line-up, the team won five Ontario University Athletics championships, including 1987-88, her final season wearing the 'C'.
After finishing her playing career, Karen immediately stepped behind the U of T bench, serving as an assistant coach under her mentor, Dave McMaster. Three seasons, and three more OUA championships later, Karen was named the Varsity Blues head coach in 1993, a role she would remain in for the next 18 seasons.
During her time as head coach, Karen mentored some of the best and brightest of the women's game, including Olympic gold medallists Jayna Hefford and Lori Dupuis, and became one of the most influential female coaches in the country.
Her Varsity Blues teams won six OUA championships and in 2001 won the school's first national title, while Karen received the OUA and CIAU coach of the year awards.
Her success at the university level attracted the attention of Hockey Canada, which named Karen an assistant coach with Canada's National Women's Team. She was behind the bench at the 1999 and 2000 IIHF World Women's Championships and the 2002 Olympics, all gold medals for Canada.
Karen took over as head coach of the national team for the 2002-03 season, and helped Canada to an eighth world championship gold medal in 2004.
She has never hesitated to give back to the game that has given her so much, working as a coach, mentor, evaluator and speaker with the Ontario Women's Hockey Association's high performance programs, lecturing at Hockey Canada coach certification clinics and teaching at hockey camps from coast to coast.
More than 30 years after first getting into the game, Karen continues to dedicate herself to hockey, and on improving the female game in whatever way she can. For this reason, and many others that can be told only by those whose lives she has touched, she is a worthy recipient.
---
Liz MacKinnon Award
Spousal award of a Hockey Canada volunteer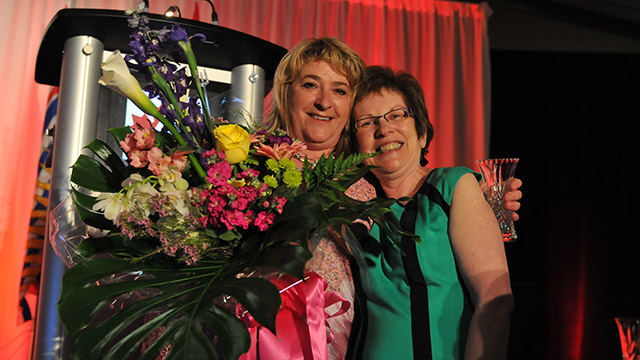 Susan Pitcher (Windsor, Nfld.)
---
Gordon Juckes Award
Contribution to national development of amateur hockey in Canada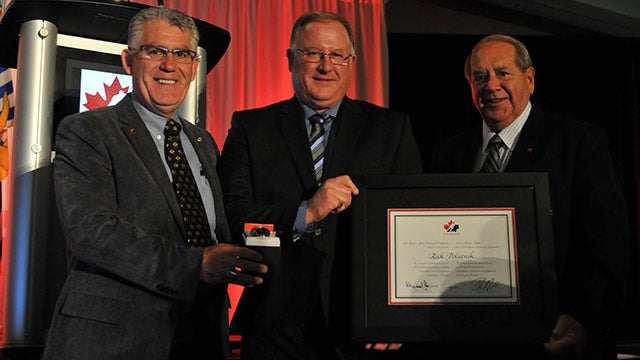 Rick Polutnik (Red Deer, Alta.)
After 30 years in the game, there isn't much Rick Polutnik hasn't seen or done in hockey. From program manager for the Canada Winter Games to gold medal-winning coach of Canada's National Women's Team and human resources manager of Hockey Alberta, Rick's accomplishments make him a deserving recipient of the Gordon Juckes Award for outstanding contributions to the development of amateur hockey in Canada.
Beginning with his role as Hockey Alberta's technical director, which he held from 1984 to 1996, Rick has had a long history with both the coaching and administration sides of the game, provincially and on a national stage.
After serving as the manager of Alberta's men's hockey entry at the 1987 Canada Winter Games, Rick made the jump not only to the women's game, but to the international arena, serving as an assistant coach with Canada's National Women's Team for the inaugural IIHF World Women's Championship in Ottawa in 1990. Two years later, he took over as head coach and led the Canadian side to its second consecutive gold medal.
At the same time, Rick was leading the Edmonton Chimos as head coach, guiding the female senior team to back-to-back appearances at the Esso Women's Nationals, winning bronze in 1991 and a gold medal and national title in 1992.
But his biggest contributions to coaching have come away from the ice. Rick has served as coaching committee chair for both Hockey Alberta and Hockey Canada, and was instrumental in the creation of coach mentorship programs for both organizations.
To this day, he continues to be involved both provincially and nationally, helping to prepare the next generation of coaches and ensure the future of Canada's game stays bright.
Rick has also returned to the international game in recent years, working with Canada's National Women's Under-18 Team at the 2008 and 2009 IIHF World Women's U18 Championships, and serving as coach mentor for Slovakia through the IIHF Ambassador and Mentor Program, sharing his knowledge of the game to help grow women's hockey internationally.
Rick was a deserved recipient of the Hockey Alberta Centennial Award in 2007 for significant contribution to amateur hockey in the province, and was announced as part of the Alberta Hockey Hall of Fame's Class of 2013 in February of this year.
Well regarded by his peers, Rick has been a dedicated leader through his involvement with hockey in Alberta. He has been more than willing to donate countless hours of hard work, effort and dedication to hockey, which has continued to develop and prosper due to his efforts. He is a proven ambassador of the game both locally and nationally, and is the ideal recipient of this prestigious award.
---
Officiating Award
Outstanding contribution to officiating at the branch and national level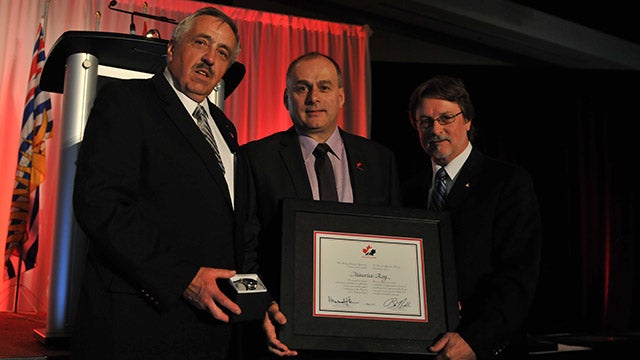 Dr. Maurice Roy (Grand Falls, N.B.)
In Canadian and international officiating circles, there are few names that carry as much weight as Dr. Maurice Roy. As an official on the ice and supervisor and administrator off of it, Maurice has been involved in every aspect of the game, earning himself this year's Hockey Canada Officiating Award.
An official from the age of 12, Maurice reached the highest level of certification in Canada just nine years later, attaining Level 6 and opening the door to assignments that would mark the start of a long career in the national and international game.
Maurice was elected referee-in-chief in Fredericton, New Brunswick, in 1982, serving in the role for one season, and was referee-in-chief in Edmundston, New Brunswick, for two seasons beginning in 1992.
All the while, he was still an active official, working Canadian university games for 15 years, along with games in the Saskatchewan Junior Hockey League and Western Hockey League. He also got his first taste of international competition, officiating games between Canada's National Men's Team and the Soviet Union, Czechoslovakia and France, as well as the under-18 Pacific Cup in Japan in 1992.
Maurice began to have more of an impact on officiating on a national scale after taking over as referee-in-chief of Hockey New Brunswick in 1994, and he was appointed to the same position with Hockey Canada in 1997, beginning an 11-year run as a member of the national organization's board of directors.
But Maurice was more than an official. A family physician, he served as team doctor for Canada at the 1995 IIHF World Championship, winning a bronze medal, and the 1996 IIHF World Junior Championship, bringing home a gold.
During his time with Hockey Canada, Maurice sat on a number of officiating and rules committees, and shared his knowledge at national and regional officiating seminars from coast to coast, helping prepare the next generation of Canadian officials.
He has stayed involved with the game since leaving his position as referee-in-chief in 2008, continuing to supervise officials at national and international events, lending years of expertise to Hockey Canada and the International Ice Hockey Federation.
In 2002, Maurice was a recipient of the Queen's Golden Jubilee Medal for his contributions to amateur sport, and he earned induction onto the Sports Wall of Fame in his hometown of Minto, New Brunswick, in 2008.
Maurice is a true leader of hockey officiating in Canada. His ability to make officials and officiating programs better is truly amazing, and his contributions to developing officials, his attention to detail and his vision of making hockey officiating better for the game of hockey make him an ideal recipient.
---
Hockey Canada Order of Merit (East)
An individual who has served amateur hockey faithfully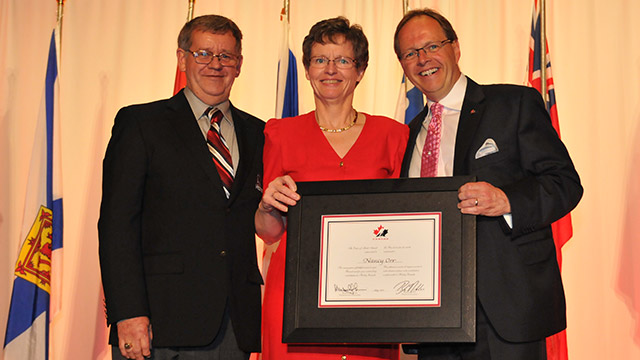 Nancy Orr (Hunter River, P.E.I.)
For Nancy Orr, her love of hockey began as it has for so many other Canadians – by simply playing the game. As a young girl she developed a passion for hockey, one that blossomed into a career as a respected administrator and led her to this year's Hockey Canada Order of Merit.
Nancy has contributed to the game of hockey on Prince Edward Island in many ways, but her true passion for the game has always been at the junior hockey level. A fan and historian, Nancy has demonstrated to the hockey community the role of a true volunteer, never self-serving, never looking for praise or remuneration, just contributing to the game to maintain her passion.
Her administrative career began in the early 1980s with the Island Junior Hockey League, rewriting the league's constitution and serving as secretary treasurer before taking the reigns as commissioner in 1989, one of the few women to hold the highest position in a Canadian hockey league.
When the IJHL folded in 1991 Nancy began working with the new Maritime Junior A Hockey League, joining its executive in 1993 and rising to the position of eastern vice-president of the Canadian Junior A Hockey League, representing the interests of Atlantic junior hockey on the national stage.
She took her talents to Hockey P.E.I. in the mid-1990s, using her expertise in constitutional matters to help rewrite the organization's constitution, and was named vice-president of finance, a position she held for more than 10 years, strengthening Hockey P.E.I. financially for the future.
Nancy has also been involved in the game nationally, including serving as a moderator at the Hockey Canada Open Ice Summit in 1999 and most recently being appointed in 2010 to the Hockey Canada Junior A Project advisory group.
Nancy has done all this while remaining active in the game on the ice as well. An avid player from a young age, she was instrumental in the creation of the P.E.I. Women's Recreational Hockey League, and continues to take part as a player.
What's more impressive is that Nancy has given so much of her time to hockey on P.E.I. while serving as one of just three provincial court judges on the island, not the typical job for someone who commits the hours Nancy has to volunteering.
Hockey on Prince Edward Island is in a much stronger position today because of the dedicated work and commitment of Nancy. She is a humble and private person who never looks for recognition and quietly goes about her work, and it is the work of individuals like this that helps grow and foster the game of hockey in our country.
---
Hockey Canada Order of Merit (Central)
An individual who has served amateur hockey faithfully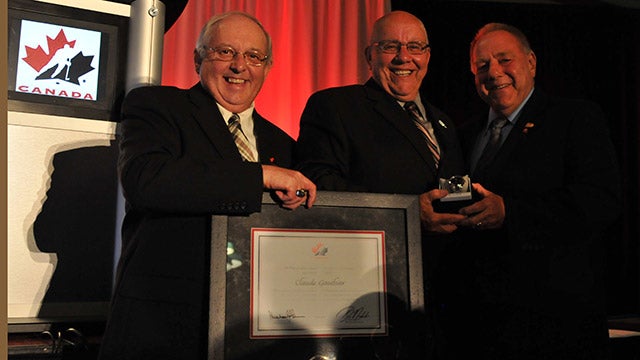 Claude Gauthier (Montréal, Que)
Jason Pominville. Pierre-Marc Bouchard. Kristopher Letang. Patrice Bergeron. All of them are NHLers, all of them played in the Ligue de hockey midget AAA du Québec and all of them benefited from the passion and expertise of Claude Gauthier, this year's recipient of the Hockey Canada Order of Merit.
Those four players are just four of the thousands whose careers, and lives, have been impacted by Claude, who has given almost 40 years of his life to hockey at almost every level of the game in Quebec.
Claude first got involved as a volunteer with the Pointe-aux-Trembles Youth Committee in 1974, helping children in the city play sports, whether it was hockey or anything else, and worked with administrators to ensure those children developed their skills in a safe environment.
He focused solely on hockey beginning in 1980, when he became vice-president of the Association du hockey mineur de Pointe-aux-Trembles, moving up to president the following season.
He continued his rise through the minor hockey ranks in 1982, serving as director and vice-president of the Bourassa Region with Hockey Quebec while also acting as president and governor of the region's entry in the Ligue de hockey midget AAA du Québec until 1987.
After a decade away, Claude rejoined the Midget AAA league in 1998, first as treasurer, then vice-president and finally president of the league until May 2011. It was under his watch the league grew to become arguably the most respected and successful Midget league in the country, with its teams winning multiple medals at the Air Canada and TELUS Cups.
But it wasn't just on the ice where Claude's impact was felt. He was an active participant in the restricting of the league and played a major role in a number of programs that ensured players could be as successful off the ice as on it.
From the sport-student program that sees hockey integrated directly into a player's school life, to the league's drug prevention program in partnership with the RCMP, Claude has always had the player's best interests in mind.
During his time as president, Claude was eager to share his experience and expertise with the league's teams, and he always made it a point to be a hands-on president, travelling throughout the league and making face-to-face visits whenever possible.
For almost four decades, Claude has been committed to helping young athletes across Quebec, from Midget hockey to lowest grassroots levels of the game, and even in sports outside of hockey. His impact should not be measured in the hours he has given, but in the number of lives he has touched.
---
Hockey Canada Order of Merit (West)
An individual who has served amateur hockey faithfully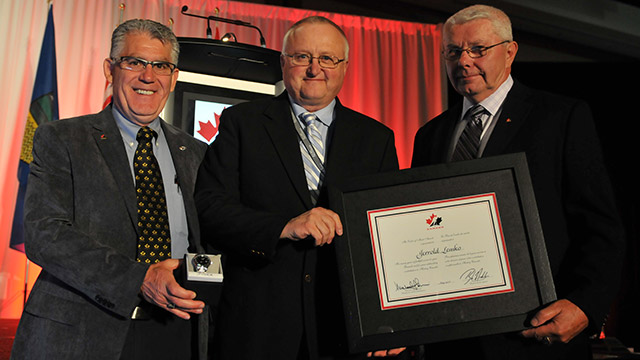 Jerrold Lemko (Vegreville, Alta.)
Societal trends in this day and age lead to longer days and more work than ever before. Noticing someone still able to contribute their time to things such as hockey poses the question: where do they find the time? Jerrold Lemko is one such person, and it's that contribution that makes him a deserving recipient of the Hockey Canada Order of Merit.
Leading by example with unlimited enthusiasm and dedication, Jerrold embodies the spirit of volunteerism. From his local minor hockey association to the provincial and national levels, he has never turned down an opportunity to be a part of growing Canada's game.
Joining Hockey Alberta's Program of Excellence in 1995, Jerrold began a relationship with the provincial branch that continues today. He spent four years with the regional under-17 program before taking over as provincial coordinator.
He served as assistant director of operations for Team Pacific at the 2000 World Under-17 Hockey Challenge and was director of operations the following year, winning bronze and silver, and providing leadership and guidance for a number of players, including future NHLers Scottie Upshall, Johnny Boychuk and Jeff Tambellini, among many, many others.
After leading the Alberta entry at the 2003 Canada Winter Games, Jerrold moved into his current role as vice-chair of hockey development with Hockey Alberta, and took up a position with Hockey Canada's Hockey Development Council, where he helps ensure young Canadians have the means to become the best they can be on the ice.
And it's not just hockey where Jerrold has given his time – it's to his community as well. In 1990 he joined the Vegreville volunteer fire department, and was named chief in 1998, a position he continues to hold. He has previously served as president of the Vegreville Minor Hockey Association and vice-president of the Vegreville Cultural Society, and has assisted in local projects that range from pancake breakfasts to the town's junior firefighting program.
In short, if something benefits the people around him, in his community, his province or his country, you can bet Jerrold will be involved.
Not surprisingly, the Hockey Canada Order of Merit is not the first award Jerrold has been honoured with for his volunteer efforts. Since 2005, he has received the Star of Alberta Award from the provincial government, an Alberta Centennial Medal, a Hockey Alberta Centennial Award and the Hockey Alberta President's Award, and he was Vegreville's Volunteer of the Year in 2005.
Within hockey, not only in Alberta but across the country, there are few who have done as much for the game as Jerrold, and undoubtedly there have been few past recipients of this award more deserving than him.
---
Outstanding Volunteer Award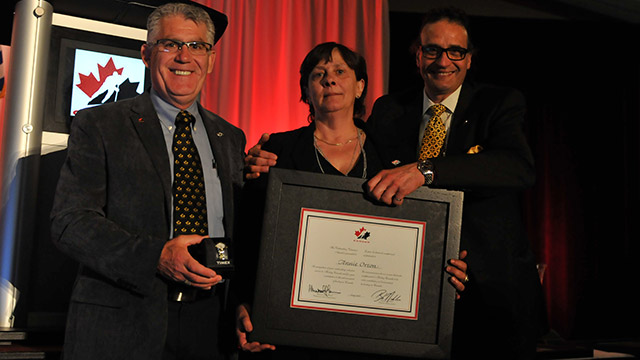 Annie Orton (Blairmore, Alta.)
With two sons in the game, and already spending plenty of time at the local arena, Annie Orton decided to become more than just your average hockey mom. She decided to try to make the game the best it could be, a journey that has led her to this year's Hockey Canada Outstanding Volunteer Award.
A lifelong fan, Annie decided to give back to the game that had given her family so much through the years, joining the volunteer board of the Crowsnest Pass Minor Hockey Association as a director in 1981, the beginning of a 17-year relationship with her hometown organization.
But Annie did more than just work behind the scenes. Every year from 1982 to 1998, she coached or managed teams in Crowsnest Pass, sometimes doing both in the same season and helping a number of local teams reach the provincial championships.
When the provincials came to Crowsnest Pass, Annie was always heavily involved, chairing the committee that organized provincial tournaments in both 1992 and 1998. Her dedication to the game was rewarded in 1991, when she was named Crowsnest Pass Minor Hockey Association volunteer of the year.
She took a step up the minor hockey ladder in 1998, joining Hockey Alberta as Zone 5 discipline coordinator, her first of many positions with the provincial branch.
As Annie's administrative abilities gained recognition, she was named manager of operations for the zone in 2000, and became director of operations just one year later. She took on the role of vice-president of operations for Hockey Alberta in 2005 and spent two seasons as vice-president of development before ascending to the presidency in 2009.
She has been a tremendous ambassador for minor hockey in Alberta, representing the province at numerous national and regional championships, sharing her knowledge of the game with fellow volunteers, constantly working to make the game better for everyone involved.
In her 15 years with Hockey Alberta, there's not much Annie hasn't done, from serving on the Hockey Alberta Awards Committee to time with the game and conduct committee, hockey development committee and executive committee, just to name a few.
She has given thousands of hours to the game, long after her sons' minor hockey careers drew to a close. For Annie, it was about making sure the game was in good hands, ensuring the next generation of players would have the same experiences as those who came before them, if not better.
Simply put, hockey would not be where it is in Alberta today without her efforts.
---
Hal Lewis Award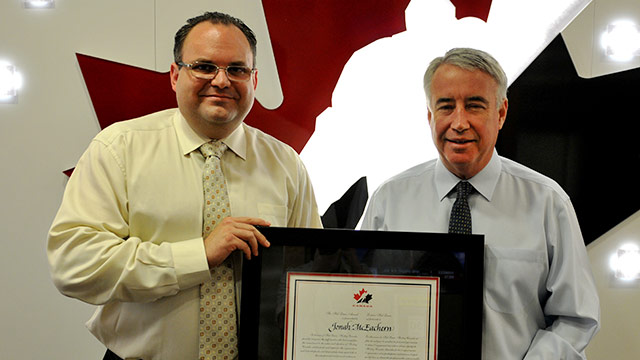 Hockey Canada staff person of the year
Jonah McEachern (Regina, Sask.)