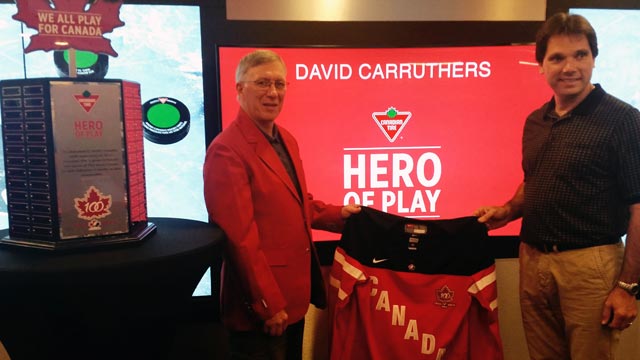 David Carruthers – Port Hawkesbury, N.S.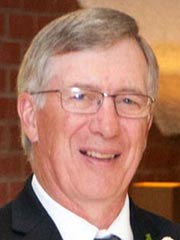 For David Carruthers, being a part of hockey – either on the ice as a player or behind the scenes as a volunteer – runs in the family; one of seven children, the activity of choice was hockey and there was always someone to shoot pucks with.
With the love of hockey ingrained in David at an early age, he became an avid participant in minor hockey, playing competitively on local rep teams and moving up the ranks to play with the first-ever Strait Pirates Junior B team, which was inducted into the Port Hawkesbury Sports Wall of Fame in 2013.
Even from a young age, David wanted to do more than just play. He began his coaching career in the late 1960s, and even while attending St. FX University would make the trip home to Port Hawkesbury every weekend to coach, working his way up to serve as bench boss of the Pirates in 1978-79.
When his son, Robert, began his minor hockey career, David got back behind the bench, coaching from Novice through Midget, and leading a number of teams to regional and provincial championships.
But he didn't just play, and he didn't just coach; David started officiating games in the early 1970s, and spent more than 25 years wearing the stripes in Port Hawkesbury and across Nova Scotia.
Today, David remains an integral part of the local hockey community. A certified course conductor for Hockey Canada, he has given a Hockey Nova Scotia coaching clinic to aspiring coaches in his community, as well as safety and checking clinics to young players.
And he's a regular at the Port Hawkesbury Civic Centre; David can often be seen sharpening skates, and serves as the arena's go-to guy for any equipment-related needs.
---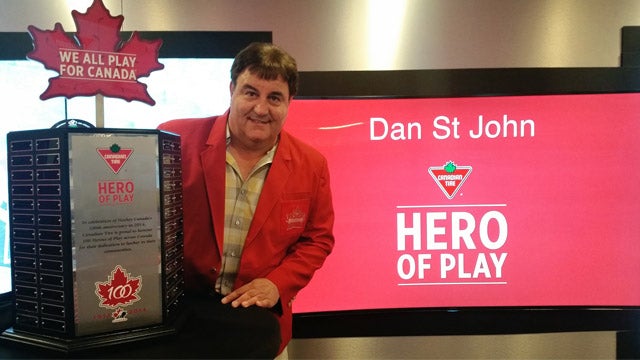 Dan St. John – Truro, N.S.
Poke your head in the arenas in and around Truro, N.S., and mention the name Dan St. John. Guaranteed, someone will have a story to tell about the long-time coach.
For more than 20 years, St. John stood behind the bench in Truro, coaching at every level. He may have got his start in Juvenile in 1981, but Peewee AA, Atom AA and countless house league teams benefited from his passion for the game.
His career highlight came towards the end of his coaching days, when he led Nova Scotia at the Esso Women's Nationals in 2004 in Sherwood Park, Alta., and 2005 in Sarnia, Ont.
Dan went straight from the bench to the boardroom, giving his time to the Truro and Area Minor Hockey Association and serving as director of the Fundy Region for Hockey Nova Scotia, a position he has held for the past 15 years.
---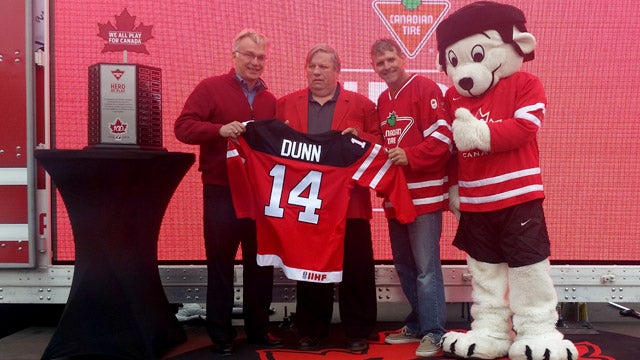 Jimmy Dunn – Fort Augustus, P.E.I.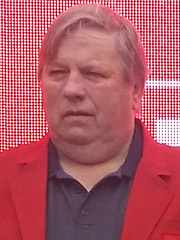 When Jimmy Dunn retired last June after 25 years on the board of directors of the Pownal Minor Hockey Association, the community lost undoubtedly its biggest supporter of the game.
Jimmy spent 18 of those 25 years as the association's president, helping Pownal registration grow from 150 to more than 600, making it the largest minor hockey association in the province.
Need more proof of Jimmy's impact? Look no further than the Pownal Sports Centre. When the community was in need of a new arena, Jimmy spearheaded the fundraising efforts, lobbying for federal and provincial support, arranging a community-wide 50-50 and securing several sponsors.
The expanded facility, which opened in December 2003, included a new NHL-sized ice surface with seating capacity of 450, and a completely renovated existing ice surface including new boards and glass, as well as a new roof.
Jimmy's support for the game went from top to bottom in Pownal. As proud as he was of the success of the elite teams, he took great pride in watching the growth of the players in the Initiation program; for Jimmy, the kids always came first.
Hockey in Pownal was a family affair for the Dunns; there were not many nights or weekends Jimmy and his wife Pam weren't at the rink supporting the kids and volunteers who kept the association going.
Pam served many years alongside Jimmy as a key volunteer, and both of their sons, Darcy and Brad, came up through the association as players, and have returned as coaches to help develop the next generation of Pownal hockey.
---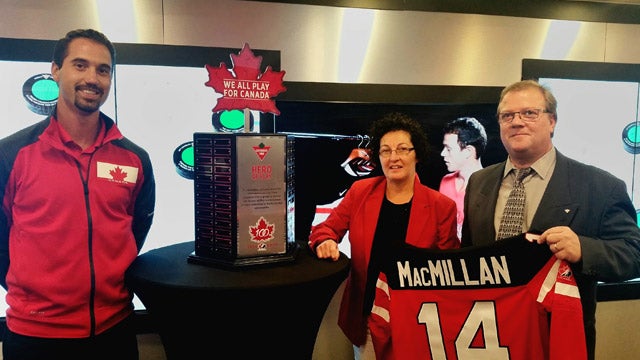 Nancy MacMillan – O'Leary, P.E.I.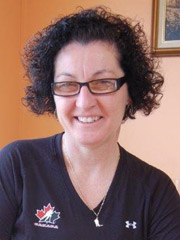 On the ice, behind the bench and in the boardroom, as a player, coach, scout and administrator; what hasn't Nancy MacMillan done for women's hockey on Prince Edward Island?
From her start as a young player in O'Leary, P.E.I., to four years at the University of P.E.I., numerous appearances representing her province and her work to grow the female game, Nancy has seen and done it all over the last three decades.
As a player, Nancy spent four years with the UPEI women's hockey program, and wore the P.E.I. colours at four consecutive Esso Women's Nationals between 1984 and 1987.
As a coach, Nancy has her Advanced Level 1 certificate from the National Coaching Certification Program, and works as a course conductor for NCCP clinics on P.E.I. She has been behind the bench at every level of the women's game, including with P.E.I. at three Esso Women's Nationals (1997-99) and the 1999 Canada Winter Games, and with Team Atlantic at the 2001 National Women's Under-18 Challenge.
As an administrator, Nancy has been a member of the Hockey PEI Development Council since 1999, currently sitting as chair. With that position comes a spot on the Hockey PEI Board of Directors, and she remains involved on a national level with Hockey Canada female development programs.
She has done it all while working as a teacher at Hernewood Junior High School in O'Leary, where her commitment to athletics extends beyond hockey; Nancy has also coached softball, volleyball, curling, badminton and soccer.
So is there anything she hasn't done? No, not really.
---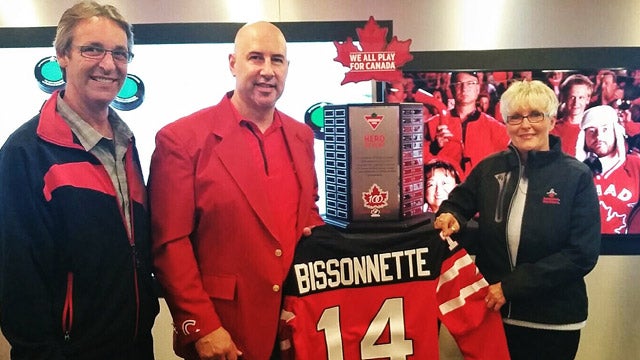 Eric Bissonnette – Fredericton, N.B.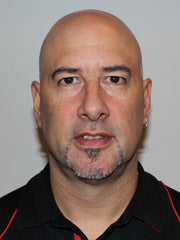 If you've been a high performance player in New Brunswick in the last decade, then you know the name Eric Bissonnette, and what he means to hockey in the province.
For more than 10 years, Bissonnette has stood behind the bench of provincial and regional teams, including his current position as head coach of New Brunswick's under-16 Canada Winter Games team, and a turn as head coach of Team Atlantic at the 2012 World Under-17 Hockey Challenge.
He is an instructor for Hockey Canada's National Coach Certification Program, and has worked as a guest coach at Canada's National Men's Summer Under-18 Team selection camp, and Canada's National Women's Under-18 Team strength and conditioning camp.
But Bissonnette's biggest impact has come locally and provincially; a presenter at Hockey New Brunswick high performance camps and high performance coaching seminars, he is also a master skills, skating and checking instructor, and delivers skills sessions and checking clinics for young players in the Fredericton area.
---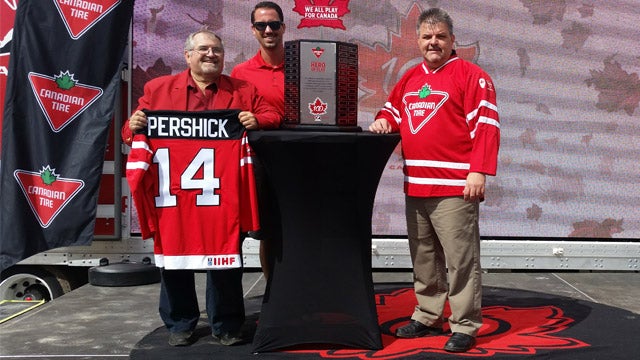 Bob Pershick – Russell, Ont.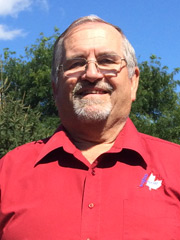 My start in minor hockey came in 1985 when my two sons started to play in the Richmond-Munster Minor Hockey Association; one played through Midget, while the other got up to Bantam.
The following year I attended the RMMHA annual general meeting, and volunteered as an equipment manager. I was a part of the board of directors for a number of years, including six as president.
I was very honoured in 1995 to be made an honorary Life Member of the RMMHA.
I volunteered to serve on the board of District IV of the Ottawa District Minor Hockey Association, working my way to vice-chairman and then chairman of the board in 2003.
I served as chair of District IV until 2007, when I was elected to the ODMHA Executive Board as director of zoning and constitution. I continue to serve in this capacity, having completed my third two-year term.
During my volunteer career I have been active on the ice as well; I have coached at both house league and competitive levels, switching back and forth as required with my sons.
I also co-coached with my good friend Bob Easy for many years, even after our sons had completed their minor hockey careers, and I hold my coaching certificate through the Coach Stream of the National Coach Certification Program.
---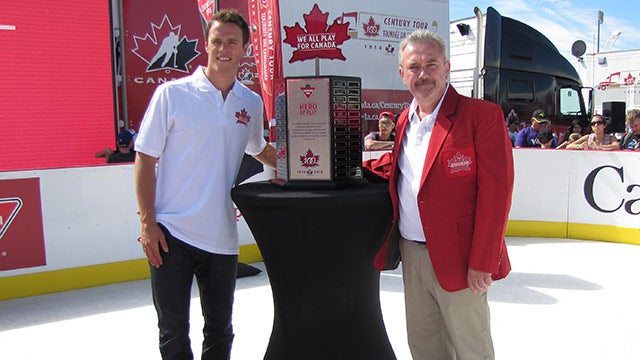 Ed Wahl – Scarborough, Ont.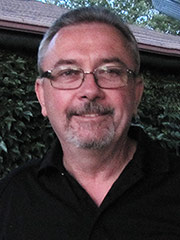 There likely isn't a player, coach, official or minor hockey volunteer in Scarborough, Ont., that doesn't know the name Ed Wahl.
Ed has been continuously involved in the game in his community since he started as a player with the Cedar Hill Minor Hockey League in 1961. He was a player (1961-75), referee (1971-92) and coach (1975-85) on the ice, and a director (1985-92) and CHMHL president (1992-2010) off of it.
When it came time for house leagues in and around Scarborough – including the CHMHL – to amalgamate, Ed took the lead, helping create the Scarborough Hockey Association, of which he has served as president since its creation in 2010.
Ed knows the importance of getting new players into the game and keeping them there, so he has spearheaded the Bauer BIG ASSIST program, which ensures a positive experience, and positive introduction to the game, for new-to-hockey families.
He has also taken an important role with the Greater Toronto Hockey League, the world's largest minor hockey association; he was a member of the GTHL House League Committee from 2011-13, and has sat on the GTHL Strategic Planning Committee since 2013.
---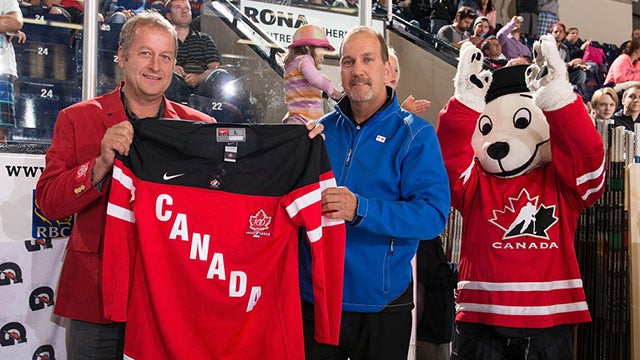 Jean Des Rosiers – Sherbrooke, Que.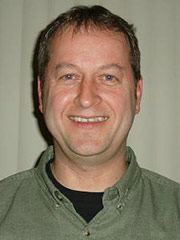 For the last 20 years, few volunteers have done more for minor hockey in Sherbrooke than Jean Des Rosiers, who has given back to the game in his community on the ice as a coach, and off the ice as an administrator.
A coach at various levels of the game from 1999 to 2006, Des Rosiers simultaneously served as vice-president of the Association du hockey mineur du Shermont; he has also spent time as a director with the Association du hockey mineur de Fleurimont, and still works as a member of the organizing committee for the Fleurimont Novice-O-Rama tournament.
In June 2006, Des Rosiers became the founding president of Hockey Sherbrooke, a position he continues to hold today.
---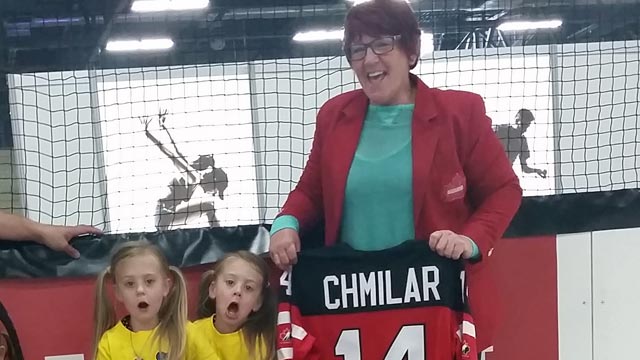 Betty Chmilar – Edmonton, Alta.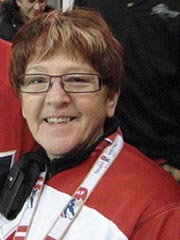 I have been very fortunate to follow in the footsteps of some of the best in the Northwest district and Edmonton Minor Hockey Association (EMHA): Vern Davis, Jack Laurie, Pat Elliott, Robert Day, Mac Fysch, Rob Virgil and Ian McKinley, to name a few.
I got my start in hockey when I joined the Hawks Athletic Club in 1984 with a proposition to coordinate a conditioning camp for their hockey players prior to tryouts. While with the Hawks, I was conditioning camp coordinator, bingo director, registrar and administrative assistant. I also worked and assisted in instituting a central registration process within the NW district and later, as registrar with the EMHA, I was the lead in a pilot project with Hockey Canada that led to the current Hockey Canada Registry.
In 1992, I joined the Canadian Athletic Club, where I held the positions of registrar, banquet chair and second vice-president. I also chaired the annual CAC Hockey School, assisted in the development of a hockey school in St. Albert, and took a swing at managing my son's Bantam A team.
I began working with the EMHA (now Hockey Edmonton) in 1998, first as registar. One year later I was recognized as the EMHA Volunteer of the Year, in addition to a Hockey Alberta Meritorious Award in 2003 for outstanding service to Hockey Alberta, and the Hockey Alberta Minor Hockey Award in 2005.
Today, I am in my second term as president of Hockey Edmonton. In that role, I have led or sat on governance changes, strategic planning, try-hockey initiatives, development programs, and changes to the ice delivery model.
Hockey is a huge part of my life, and my family's life. All three of my children have been involved in the game, and remain a part of the Canadian Athletic Club hockey community.
I have received many rewards from my volunteer experience, but the most gratifying is watching the improvement and growth of the young players I have met through the various programs I have been involved with. Many of them remain like a part of my family, and that is the best reward!
As Winston Churchill once said: "We make a living by what we do, but we make a life by what we give."
---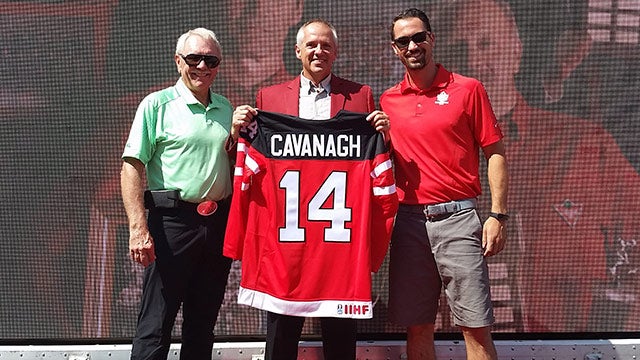 Perry Cavanagh – Calgary, Alta.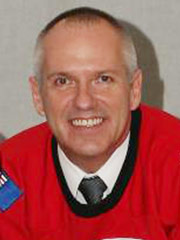 After 30 years in electrical engineering, Perry Cavanagh retired in 2007, and dove head-first into volunteering for youth sports associations and programs, both in Calgary and across Alberta.
Perry currently serves as chairman of Sport Calgary, a volunteer not-for-profit society that represents all sport in the City of Calgary. Through strong partnerships, Sport Calgary assists, supports and influences the growth of amateur sport throughout the city.
But it is hockey where Perry has made his biggest impact. Beginning as a minor hockey coach for his son's team more than 25 years ago, he quickly moved into the administrative side of the game, and has served as president of Hockey Calgary, the Southern Alberta Tyke Hockey Association and the Properties Sports Hockey Association.
Perry made the jump to the provincial level by taking on several branch committee responsibilities as well as spending time as a member of the Hockey Alberta Board of Directors, and his trek into the national and international levels of the game is highlighted by his participation as a co-chair on the 2012 IIHF World Junior Championship organizing committee.
As an advocate for "Sport for Life," Perry is looking forward to many more years of active giving and participation wherever and whenever needed!
---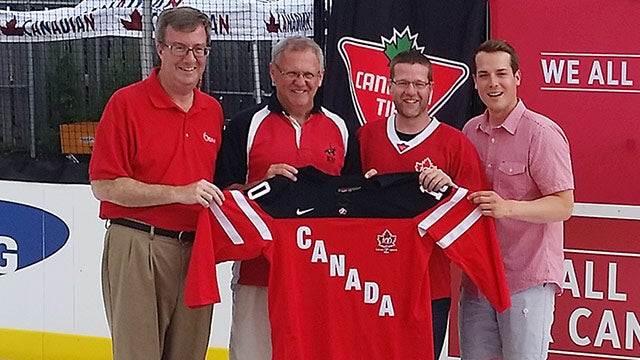 Andy Baird – Ottawa, Ont.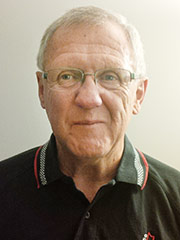 I am a retired member of the RCMP who got involved with hockey when I was posted to Selkirk, Man., and my sons first started to play in the fall of 1983. Volunteers are hard by to come in any sport, but as a junior member of the RCMP most of my shifts were late evenings, so I was available to help out as a coach and trainer for hockey in the winter, for soccer in the summer, and as a Beaver/Cub leader; every organization needed volunteers!
In 1989 I was transferred to Ottawa and moved into the Orleans area. Our three sons very quickly immersed themselves into the world of hockey and after the first year I committed myself again as a minor hockey volunteer. In 1990 I joined the executive of what was then the Cumberland Barons Minor Hockey Association, and helped out as an assistant coach and trainer. I quickly realized the Peewee players were better skaters than I was as an adult, so I moved into the administrative side of the game.
I have served as director, association president, district chair and, most recently, for the past nine years as a member of the Ottawa District Minor Hockey Association executive in various roles. I was provided the opportunity to work on the introduction of AAA hockey into the ODMHA, and chair the Risk and Safety / Abuse and Harassment Committee. Over the years with the ODMHA, I have been involved in numerous hearings as both a panel member and chair. For the past two years I have been organizing and distributing used hockey equipment in conjunction with a program sponsored jointly by Canadian Tire and the Ottawa Senators.
I am just a volunteer giving back a small fraction of what our three boys gained from hockey (fitness, self-confidence, friendships, etc.) as I was lucky enough to have the time to do so and be allowed by my wife!
It's a great sport with great rewards for those who participate.