POULIN SETS UP THREE TO LEAD YELLOW TO WIN OVER RED
CALGARY, Alta. – Marie-Philip Poulin (Beauceville, Que./Boston University, HE) picked up three assists as Yellow remained undefeated at the National Women's Team evaluation camp with a 5-1 victory over Red on Friday night.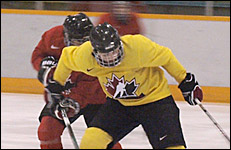 Poulin set up goals by Annie Guay (Rouyn-Noranda, Que./Montreal, CWHL), Hayley Wickenheiser (Shaunavon, Sask./University of Calgary, CIS) and Bailey Bram (Ste. Anne, Man./Mercyhurst College, CHA) to help the Yellow offence continue to roll. Through its first two games, it has scored nine goals, while allowing only three, and has outshot its opposition by a 72-42 margin.
Natalie Spooner (Scarborough, Ont./Ohio State University, WCHA) and Jillian Saulnier (Halifax, N.S./Toronto, PWHL) also scored for Yellow, while Charline Labonté (Boisbriand, Que./McGill University, CIS) and Liz Knox (Stouffville, Ont./Wilfrid Laurier University, CIS) combined to stop 16 shots in the win.
Courtney Birchard (Mississauga, Ont./University of New Hampshire, HE) scored the lone goal for Red, which fell to 0-2. Christina Kessler (Mississauga, Ont./Burlington, CWHL) went the distance between the pipes, making 31 saves in a losing cause.
Yellow looks to complete a perfect round robin when it takes on White on Saturday night (5:30 p.m. MT), while Red will try for its first when in a match-up against Blue (3 p.m. MT).