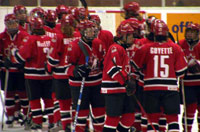 Canada's National Women's Team has advanced to the gold medal final at the 2003 4 Nations Cup, after a 5-1 victory over Team Finland on Saturday afternoon in Skövde, Sweden.

Canada came out on the offensive and sustained constant pressure in the Finnish zone for the opening 2:45 but couldn't beat Finnish netminder Minna Halonen. Finally, at 5:14, the line of Hefford-Botterill-Desrosiers were able to score, as Jennifer Botterill fed Jayna Hefford alone beside the net and the Kingston native chipped it by Halonen.
Rookie Sarah Vaillancourt scored her first ever National Team goal to make it 2-0, coming out of the corner with the puck and beating Halonen through the five-hole.

Canada continued to carry the play but the Finns scored after a scramble in front of the Canadian net, as the puck slid under Sami Jo Small. The goal was credited to Karoliina Rantamaki. Canada's powerplay restored a two-goal lead as Becky Kellar pinched in a one-timed a Botterill pass over Halonen's left shoulder.

In the third period, the Canadian powerplay continued to click. Gillian Ferrari found a wide open Jayna Hefford beside the net, and Hefford potted her second of the afternoon.

The 2003 4 Nations Cup comes to an end on Sunday, November 9th with the bronze medal between Sweden and Finland at 1 pm (local time) and the gold medal final featuring Canada and the USA at 5 pm (local time).
| | | | | | |
| --- | --- | --- | --- | --- | --- |
| Box Score | CAN | 2 | 1 | 2 | 5 |
| Compte | FIN | | | | |
First Period/Première période
Scoring/Buts:
05.14 0 - 1 EQ CAN 16. HEFFORD, Jayna (17. BOTTERILL, Jennifer)
11.13 0 - 2 EQ CAN 26. VAILLANCOURT, Sarah
Penalties/Pénalités:
06.18 2 min FIN 8. TUOMINEN, Satu INTRF
12.10 2 min CAN 22. WICKENHEISER, Hayley ROUGH

Second Period/Deuxième période
Scoring/Buts:
23.15 1 - 2 EQ FIN 29. RANTAMÄKI, Karoliina (22. TUOMINEN, Saara)
34.10 1 - 3 PP1 CAN 4. KELLAR, Becky (17. BOTTERILL, Jennifer 5. SOSTORICS, Collen)
Penalties/Pénalités:
32.22 2 min FIN 20. SIRVIÖ, Saija INTRF

Third Period/Troisième période
Scoring/Buts:
49.46 1 - 4 PP1 CAN 16. HEFFORD, Jayna (9. FERRARI, Gillian 4. KELLAR, Becky)
50.37 1 - 5 EQ CAN 77. CAMPBELL, Cassie (27. KINGSBURY, Gina)
Penalties/Pénalités:
40.22 2 min CAN 10. APPS, Gillian HI-ST
44.24 2 min CAN 24. BÉCHARD, Kelly HOOK
47.11 2 min CAN 5. SOSTORICS, Collen BODY-CH
48.56 2 min FIN 20. SIRVIÖ, Saija HOLD
56.50 2 min CAN 77. CAMPBELL, Cassie TRIP

Goaltenders

CAN

SMALL, Sami jo

Gardiennes de but

FIN

HALONEN, Minna

---

Shots on Goal

Team

1 p

2 p

3 p

Final

Shots on Goal

CAN

17

9

9

35

Tirs au but

FIN

4

6

8

18

---

Referee/Arbitre

Bengtsson, Peter

Linesmen/Juges des lignes

Haapanen, Eeva Lundholm, Lars

---

Attendance/Assistance