CANADA 4 - RUSSIA 6
BRONZE | SUN. APR. 24
Canada fell behind again, and again put a valiant effort towards a come back. Russia captured gold at the 2011 World Under-18 Championship with a 6-4 victory over Canada.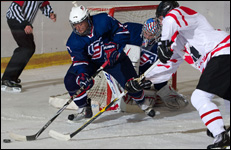 CANADA 4 – UNITED STATES 5 (OT)
SEMIFINAL | SAT. APR. 23
Brett Ritchie, Ryan Murphy and Mark Scheifele scored in the final 10:45 to erase a 4-1 deficit and force overtime, but the Canadians will have to settle for playing for a bronze medal after a loss to the Americans.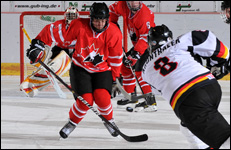 CANADA 4 – GERMANY 3
QUARTER-FINAL | THURS. APR. 21
Morgan Rielly tied the game on a third period power play and set up Nick Cousins for the game-winner on a man advantage with 4:42 left in the third as Canada advanced to a semifinal date with the U.S.
CANADA 2 – SWEDEN 4
PRELIMINARY | TUE. APR. 19
Nick Cousins and Ryan Murphy scored for Canada but it wasn't enough as it lost its prelim round finale to the Swedes, leaving the Canadians second in Group B and setting up a quarter-final vs. Germany.
CANADA 5 - NORWAY 0
PRELIMINARY | MON. APR. 18
Mark Scheifele scored twice and added an assist and Andrew D'Agostini stopped all 19 shots directed his way as Canada improved to 3-0 with its second shutout in three games, blanking the Norwegians.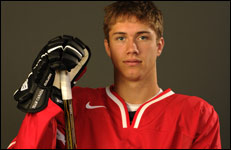 RYAN MURRAY NAMED
CAPTAIN FOR U18 WORLDS
Canada's gold medal-winning captain at the Memorial of Ivan Hlinka tournament last summer, Ryan Murray will again wear the "C", this time at the 2011 IIHF World Under-18 Championship. » more