LESSIO'S THREE POINTS LEADS RED TO SECOND INTERSQUAD WIN
CALGARY, Alta. – Lucas Lessio (Maple, Ont./St. Michael's, CCHL) scored once and added two assists and Phillip Danault (Victoriaville, Que./Victoriaville, QMJHL) had the game-winning goal for the second night in a row as Red improved to 2-0 at the National Men's Summer Under-18 Team selection camp with a 5-1 win over White on Monday night.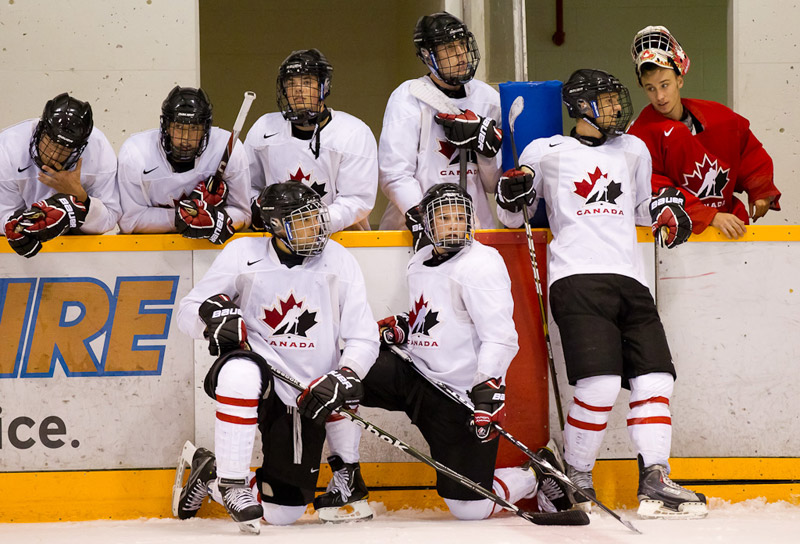 Garrett Meurs (Ripley, Ont./Plymouth, OHL), Michael St. Croix (Winnipeg, Man./Edmonton, WHL) and Ryan Murray (White City, Sask./Everett, WHL) also scored for Red, which has netted 13 goals in its two wins thus far.
Coming off a wild 8-7 victory on Sunday night in the first intersquad game, Red jumped out to an early advantage when Lessio set up Meurs, who snapped the puck past White goaltender Robin Gusse (Terrebonne, Que./Chicoutimi, QMJHL) just 3:39 after the opening face-off.
But unlike one night earlier, when Red took a 3-0 lead before White found the scoresheet, White answered back less than three minutes after Meurs' goal thanks to Jonathan Huberdeau (Prévost, Que./Saint John, QMJHL), whose blind backhand from the slot surprised Jeffrey Noonan (Laval, Que./Laval-Montreal, LHMAAAQ) and tied the game 1-1.
Danault restored the Red lead with his fourth goal in two games, batting a loose puck past Gusse on a Red power play late in the opening period, sending his team to the first intermission with a 2-1 advantage.
Despite failing to score on a man advantage midway through the second period, Red pushed its lead to 3-1 just 28 seconds after the action returned to 5-on-5 when St. Croix's shot from the slot hit a White stick and found its way past Gusse.
Lessio made it 4-1 five minutes later, taking a gorgeous pass from Myles Bell (Calgary, Alta./Regina, WHL) and beating Liam Liston (St. Albert, Alta./St. Albert, AMHL) on a breakaway, and he set up Murray for the game's final goal 6:41 into the third period.
The two teams wrap up camp with the third and final Red-White game on Tuesday morning (11:30 a.m. MT) at Father David Bauer Olympic Arena. Following the game, the coaching staff will choose a 22-player roster that will represent Canada at the 2010 Memorial of Ivan Hlinka in the Czech Republic and Slovakia.