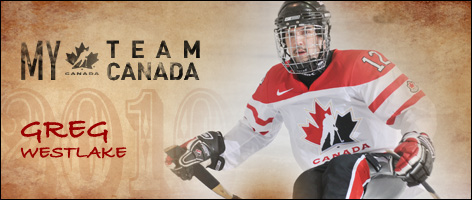 My Team Canada - Greg Westlake : 02/26/2009
An offensive star for Canada's National Sledge Team, Greg Westlake has a Paralympic gold medal and a world championship gold medal under his belt at the tender age of 22. While known best for his offensive exploits, Westlake is also well-known for the ability to get under his opponents' skin. The Oakville, ON native authored one of the greatest moments in Canadian sledge hockey history at the 2008 IPC Sledge Hockey World Championship, scoring the game-winning goal with just eight seconds to go to defeat Norway in the gold medal game.
Forwards
Defense

Jeff Carter
Sidney Crosby
Shane Doan
Ryan Getzlaf
Dany Heatley
Jarome Iginla
Vincent Lecavalier
Brenden Morrow
Rick Nash
Mike Richards
Ryan Smyth
Joe Thornton
Jonathan Toews

Jay Bouwmeester
Mike Green
Duncan Keith
Scott Niedermayer
Dion Phaneuf
Chris Pronger
Shea Weber

Goaltenders

Martin Brodeur
Roberto Luongo
Marty Turco
Goaltenders: Luongo and Brodeur are without a doubt the top two goalies Canada has. It is hard to argue against Brodeur starting, but I would like to see Luongo get a shot at taking the job in 2010.I would bring Turco as my third goalie because if he ever needed to see action, I really like his ability to play the puck. At the Olympics the goaltenders will have free range to do just that.
Defense: Canada has produced some incredible blueliners in recent years that can do it all. Weber, Phaneuf, Green, Bouwmeester and Keith have proven to be effective NHL stars on the power play, as well as on the penalty kill. They are all big and have speed as well. I also chose Chris Pronger and Scott Niedermayer to bring a veteran presence to the blue line. Both are proven winners and will thrive on the NHL-sized ice surface.
Forwards: With the 2010 games being on the NHL-sized ice, I think that having speed, size and grit will help bring home the gold. It is time for guys like Crosby, Getzlaf, Carter, Richards and Toews to show that they can win gold at the senior level, just like they did with Canada's juniors. When I was choosing my 'checkers' for the team, I wanted them to be versatile (able to score and be defensively responsible), but I also wanted leadership. In guys like Smyth, Richards, Morrow and Doan, all four of these players have either worn a letter for an NHL team or currently wear a letter. All are capable of chipping in offensively if the scorers aren't getting it done. One honorable mention goes to Milan Lucic. He will likely get little to no consideration, but he is a power forward in the mold of another great Bruin, Cam Neely, and down the road I expect him to be a big part of Canada's plans.