ONTARIO BLUE BEATS RIVALS ONTARIO RED TO GO FOR GOLD
DAWSON CREEK, B.C. – What a day in Dawson Creek, with another history making game unfolding inside the EnCana Events Centre during Saturday night's feature game, as Ontario Blue defeated provincial rivals Ontario Red 7-1 to earn the chance to go for gold and knock the seven-time defending champions out of the final matchup for the first time ever.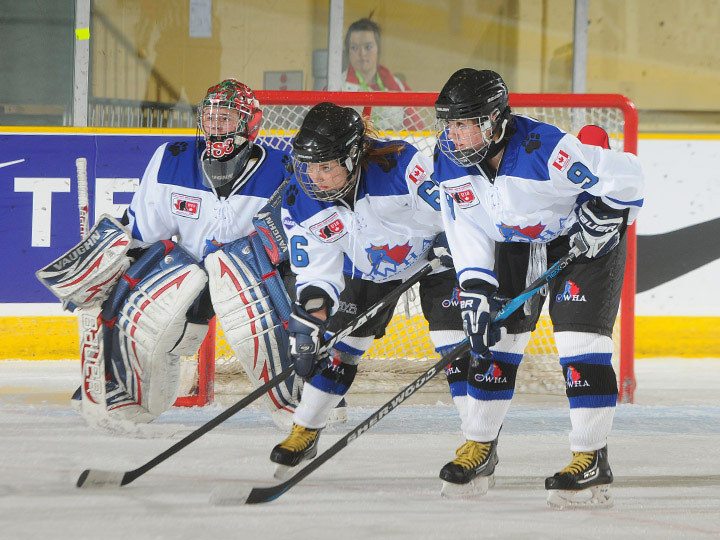 The game belonged to Ontario Blue  right from the first puck drop, with Rebecca Leslie (Ottawa, Ont.) notching one at just over five minutes into the game on a nice little deke, and Taylor Accursi (Ancaster, Ont.) following suit with one of her own, snatching the puck while her team was shorthanded and skating alone up the ice to bury the puck in the back of the net in the last minute of the first. Ainsley MacMillan (Ilderton, Ont.) capped off the period with just 15 seconds left to make it 3-0 going into intermission.

The puck flew-up-and-down the ice throughout the second, as female hockey fans watched in eager anticipation to see if seven-time defending champions Ontario Red would be able to stage a comeback to once again move on to the gold medal game, but it was Ontario Blue's Victoria Andreakos (Aurora, Ont.) who got her team on the board again midway through the period to make it 4-0 going into the second intermission.

And Ontario Blue just kept the shots coming, not letting up on the Ontario Red net with a gritty determination to get the chance to go for that gold medal. Accursi fed defenceman Paige Horton (St. Thomas, Ont.) on a power-play at 2:48 to make it 5-0 for the underdog squad.

But Ontario Red grabbed the puck while shorthanded themselves, with Hillary Lloyd (Toronto, Ont.) finally cracking the scoreboard for her team on an unassisted goal at 4:03 in the period. Although an Ontario Blue shutout was shut down, they didn't stop scoring, with Brooke Webster (Aurora, Ont.) adding another at 16:08 and Mackenzie Neil (Richmond Hill, Ont.) capping it off at 7-1 with about one minute left in the final frame.

Ontario Blue advances to the gold medal game for only the second time since the National Women's Under-18 Championship was created, Ontario Red battles for the bronze medal for the first time ever. Check out hockeycanada.fasthockey.com to watch the bronze medal game live, go to www.TSN.ca to see the gold medal game live and follow all the action from the arena at www.Twitter.com/HC_NWU18C.