TEAM ATLANTIC A TOUGH TEAM TO BEAT FOR ONTARIO RED

SURREY, B.C. – Ontario Red may have won Thursday night's 2-1 game against Team Atlantic, but both squads contributed to the excitement in the stands and entertainment on the ice at South Surrey Arena.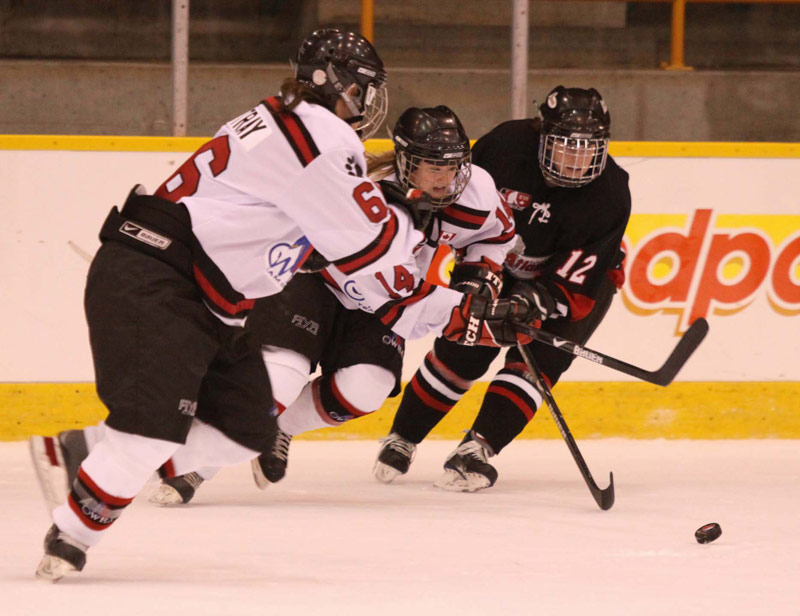 Team Atlantic put up a tough fight while taking on the long-time defending champions, with veteran forward Jillian Saulnier (Halifax, N.S.) opening the scoring and putting the East Coasters up on the scoreboard during a power play at 14:41 in the first period. Fellow veteran forward Sarah Davis (Paradise, N.L.) provided the assist to make it happen.

Although the Atlantic Canadians kept up the fast-paced played into the second, the period belonged to Ontario Blue, with Kelly Babstock (Mississauga, Ont.) tying it up at 5:51 on a pass from Jamie Lee Rattray (Kanata, Ont.). Nicole Gifford (Ennismore, Ont.) secured the game winner for her team as the period came to a close.

But Team Atlantic wasn't about to call it quits, battling its way through the third period and attempting to put the puck past Ontario Red netminder Nicole Paniccia (Oakville, Ont.) at all costs. Paniccia was just as determined to keep the puck out of her crease, stopping several hard shots from the point and standing her ground while her teammates struggled on a penalty kill.

Ontario Red's Theadora Imbrogno (Etobicoke, Ont.) found a clear breakaway midway through the third period, but despite being stopped in her tracks by a Team Atlantic player she managed to earn herself a penalty shot. Team Atlantic goalie Ayla Frank (Labrador City, N.L.) stopped her for a second time, one of her 45 saves on the night.

Team Atlantic takes on Ontario Blue for the first game Friday (8 a.m. PST), while Ontario Red faces off against Saskatchewan in the evening (5 p.m. PT).


Game Information
Game Number
7
Round
Preliminary
Arena
South Surrey Arena
City, Country
Surrey, B.C., Canada
Month / Day / Year
11/05/2009
Time (local)
05:00 PM PT
Attendance
Game Status
Final
Box Score
1
2
3
Total
Ontario Red (ON-R)
0
2
0
2
Atlantic (ATL)
1
0
0
1

Goals/Penalties
First Period
Goals:
14:41 ATL 9 Jillian Saulnier (19 Sarah Davis) PP


Penalties:
03:08 ATL 3 Leanne Gallant (Roughing)
03:49 ATL 19 Sarah Davis (Holding)
04:24 ON-R 22 Arielle O'Neill (Hooking)
07:29 ON-R 66 Jamie Lee Rattray (Interference)
11:42 ATL 8 Shannon MacAulay (Elbowing)
14:18 ON-R 72 Kelly Babstock (Slashing)
15:29 ATL 18 Blayre Turnbull (High Sticking)


Second Period
Goals:
05:51 ON-R 72 Kelly Babstock (66 Jamie Lee Rattray)
18:11 ON-R 20 Nicole Gifford


Penalties:
07:08 ON-R 6 Lauren Kelly (Holding)
11:50 ATL 77 Jessica McCann (Bodychecking)
19:55 ON-R 20 Nicole Gifford (Tripping)


Third Period
Goals:


Penalties:
02:23 ON-R 2 Dayle Wilkinson (Holding)
07:44 ATL Team (Penalty Shot)





Goaltenders
Ontario Red

| | | |
| --- | --- | --- |
| 1 Nicole Paniccia | On 1/00:00 | Off 3/20:00 |

Atlantic

| | | |
| --- | --- | --- |
| 31 Ayla Frank | On 1/00:00 | Off 3/18:51 |




| | | | | |
| --- | --- | --- | --- | --- |
| Shots on Goal | 1 | 2 | 3 | Total |
| Ontario Red | 14 | 23 | 19 | 56 |
| Atlantic | 9 | 5 | 8 | 22 |




Player of Game
Ontario Red
20 Nicole Gifford
Atlantic
31 Ayla Frank
Officials
Referee
Sylena Mutsaers
Lines People
Vanessa Stratton, Megan Boyle