ALBERTA STARTS A WINNING STREAK

SURREY, B.C. – Alberta edged Manitoba 3-2 on the ice Thursday afternoon, with Molly MacDonald (Wetaskiwin, Alta.) and Taylor, Sakundiak (Calgary, Alta.) proving to be the big playmakers of the game.

Both Alberta forwards earned two assists in the fast-paced game, together helping their teammates secure all three goals against Manitoba.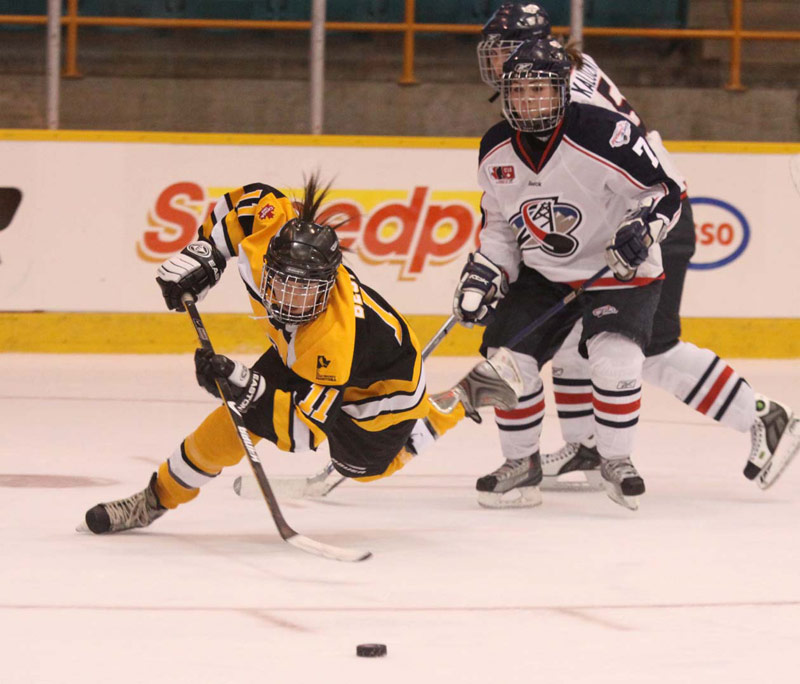 MacDonald's first pass was to Sadie Lenstra (Calgary, Alta.), who scored less than five minutes into the first, ensuring a strong start for Alberta. Sakundiak and MacDonald combined their talents on the second goal, with Brittney Fouracres (Airdrie, Alta.) finishing it off, putting Alberta up 2-0 going into the first intermission.

Karlee Odland (Vauxhall, Alta.) made it three for her team, with Sakundiak again assisting, but Alberta wasn't about to hold on to its 3-0 lead.
Manitoba tried its hand at a comeback in the second half of the game, with Christine Bestland (Brunkild, Man.) taking advantage of a power play in the last couple of minutes of the second.

Elisabeth Hewett (Oak Bluff, Man.) helped her team narrow the gap with a goal midway through the third, but Alberta was able to hold off Manitoba for the remainder of the period – and the game.

This makes it two wins in two days for the Albertans, who will try for three Friday afternoon (1 p.m.) against Quebec. Manitoba has had one win and won loss thus far in the tournament, with the team's next chance to earn some points to be when they face British Columbia for the last game of preliminary action Friday night (8 p.m. PST).


Game Information
Game Number
6
Round
Preliminary
Arena
South Surrey Arena
City, Country
Surrey, B.C., Canada
Month / Day / Year
11/05/2009
Time (local)
01:00 PM PT
Attendance
Game Status
Final
Box Score
1
2
3
Total
Alberta (AB)
2
1
0
3
Manitoba (MB)
0
1
1
2

Goals/Penalties
First Period
Goals:
04:51 AB 11 Sadie Lenstra (9 Molly MacDonald)
17:39 AB 6 Brittney Fouracres (8 Taylor Sakundiak, 9 Molly MacDonald)


Penalties:
06:15 AB 3 Danielle Brown (Hooking)


Second Period
Goals:
08:15 AB 19 Karlee Odland (8 Taylor Sakundiak)
18:49 MB 11 Christine Bestland (15 Meghan Dufault, 10 Meagan Vestby) PP


Penalties:
01:38 MB 3 Natasha Kostenko (Hooking)
02:35 MB 11 Christine Bestland (Cross Checking)
05:52 AB 3 Danielle Brown (Holding)
12:35 AB 10 Brittany Styner (Hooking)
17:06 AB 6 Brittney Fouracres (Hooking)
19:37 AB 3 Danielle Brown (Tripping)


Third Period
Goals:
13:48 MB 2 Elisabeth Hewett (9 Kristine Grenier, 14 Brandi Pollock)


Penalties:
06:05 MB 8 Michelle Pawluk (Holding)
10:38 MB 2 Elisabeth Hewett (Holding)





Goaltenders
Alberta

| | | |
| --- | --- | --- |
| 31 Camille Trautman | On 1/00:00 | Off 3/20:00 |

Manitoba

| | | |
| --- | --- | --- |
| 1 Chantal Lischynski | On 1/00:00 | Off 2/08:57 |
| 35 Abby Ryplanski | On 2/08:57 | Off 3/18:42 |




| | | | | |
| --- | --- | --- | --- | --- |
| Shots on Goal | 1 | 2 | 3 | Total |
| Alberta | 12 | 10 | 7 | 29 |
| Manitoba | 8 | 10 | 8 | 26 |




Player of Game
Alberta
18 Molly MacDonald
Manitoba
15 Meghan Dufault
Officials
Referee
Meghan Mallette
Lines People
Michelle Stapleton, Genevieve Bordeleau