POOL A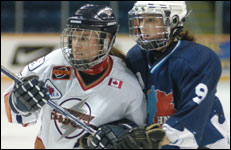 TEAM ONTARIO BEGINS THEIR TITLE DEFENCE WITH A WIN OVER NEW BRUNSWICK
Team Ontario began their National Women's Championship title defence with a convincing 4-0 victory over Team New Brunswick. Ontario veterans and former Canadian National Women's Team players led the way early on for Team Ontario as Lori Dupuis opened the scoring mid-way through the first period and Kelly Bechard, Team Ontario's player of the game, added the insurance goal early in the second. 2006 Winter Olympic gold medallist Vicky Sunohara also scored for team Ontario while her gold medal teammate in Turin, defenceman Gillian Ferrari chipped in with 2 assists. Ontario goaltender Robyn Rittmaster stopped 12 shots for the shutout while her counterpart, Emily Hobbs was strong in net for Team New Brunswick as her 29 saves earned her player of the game honours for her team.
TEAM QUEBEC TOO MUCH FOR TEAM BRITISH COLUMBIA
Team Quebec overcame a slow start to overpower Team British Columbia 9-3 on Wednesday afternoon. Despite outshooting BC 18-2 in the opening period, Team Quebec trailed 1-0 going into the second after Breanna Burton opened the scoring for BC. However, Quebec wasted no time making amends as they outscored Team BC 4-1 in the second period to take a comfortable 4-2 lead into the third period. Any chance of a BC comeback was quickly shattered as Quebec's Sarah Smiley scored just 18 seconds into the third period to give Quebec a 5-2 lead. From there, the flood gates opened and Quebec notched four more goals in the third en route to victory. Jesse Scanzano had a four point day (1 goal, 3 assists) but it was 2006 Olympic gold medallist Gina Kingsbury who stole the show notching a hat trick and was named Quebec's player of the game. Burton who scored two of her team's three goals took home BC's player of the game.
TEAM ALBERTA BLANKS TEAM NEW BRUNSWICK
Team New Brunswick was shutout for the second straight game on Wednesday evening falling to Team Alberta 5-0. The game was New Brunswick's second of the day but that did not stop goaltender Emily Hobbs from having another standout game. However, New Brunswick's offence sputtered and could not solve Alberta goaltender Amanda Tapp who was equally as sharp in net stopping all 16 shots she faced. Chantal Laroque, Alberta's player of the game opened the scoring for her team late in the first period and added a second marker late in the second to give Alberta a comfortable lead. Heather Logan also netted two and 2005 National Under-18 Championship MVP Laura Fridfinnson scored her first for Team Alberta. Defenceman Carole Leblanc was named New Brunswick's player of the game.
TEAM QUEBEC IMPROVES TO 2-0 WITH WIN OVER ONTARIO
Wednesday night's feature game pitted what most consider as being the two top contenders in Pool A, Team Ontario vs Team Quebec. There were two difference makers in this game: goaltending and special teams. Team Quebec goaltender Charline Labonte showed the form that led Canada to an Olympic gold medal in Turin making several spectacular stops, 41 saves in total to lead Quebec to the 4-1 victory. Team Ontario threw all they could at her but could not solve the Quebec netminder as she turned away x shots. Special teams was also a difference maker as Team Ontario turned in a 0-11 effort on the power-play while Team Quebec capitalized on their first two opportunities finishing 2-6. Annie Derosiers found the back of the net twice for Quebec while Olympic gold medallist Gina Kingsbury had two helpers. Labonte, who was named her team's player of the game could have easily won for best penalty killer as well. Coley Dosser, Ontario's lone goal scorer was named player of the game for her team.
POOL B
TEAM PEI ROLLS OVER TEAM NEWFOUNDLAND & LABRADOR
In game one of Pool B at the 2006 Esso Women's National Championship, Team PEI's constant pressure and playmaking was too much for Newfoundland & Labrador to handle. After taking the lead at 4:16 of the 1st period on a goal by Tessa Roche, PEI never looked back and handed their opponents an 8-0 loss. Marion Clark, Team PEI's Player of the game notched 5 points (2 goals, 3 assists) and Mary Mckinnon chipped in with two goals and a helper to lead their team. Despite allowing 8 goals, NFLD & Labrador goaltender Mallory Jagoe was named player of the game for her team stopping 44 shots. Team PEI goaltender Brandy MacLellan had a relatively un-eventful morning stopping all six shots she faced for the shutout.
NOVA SCOTIA TOPS MANITOBA IN OVERTIME
Host team Nova Scotia won in dramatic fashion on Wednesday afternoon after it defeated Team Manitoba 5-4 in overtime in front of a boisterous crowd of local elementary schools. Despite carrying leads of 2-0 and 3-1, Manitoba could not hold off the hard charging Nova Scotians. With a 4-3 lead late in the third, Manitoba got into penalty trouble and conceded a power-play goal at 17:03 giving Nova Scotia new life. Then, with seven seconds left in the third, Manitoba player Kailey Fosyth was called for high sticking and it was Nova Scotia's power-play that came through once again as Courtney Shriver put home the game winner at the 1:50 mark in overtime. Manitoba was led by player of the game Kim Houde who notched two goals and added an assist in the losing cause. Nova Scotia forward Kori Chevrier was named her team's player of the game.
NOVA SCOTIA TAKES OVER TOP SPOT IN POOL B WITH VICTORY
The two winners in the day's earlier games faced-off Wednesday night and to the winner would go sole possession of first place in Pool B. Team Nova Scotia carried the momentum of their 5-4 overtime victory into this game and capitalized early on goals by Kori Chevrier and Clara Gaudet to give them a 2-0 lead after the 1st period. After a scoreless second, Nova Scotia put the game away with a goal by Garlene Sommerton. With under-two minutes remaining, Anne Shaw broke Krista MacInnis' shutout bid to make it 3-1. Defenceman Laura Shearer earned player of the game honours for Team Nova Scotia while PEI goaltender Diana Bell turned away 31 of 34 shots to earn the player of the game for Team PEI.