REGINAL REBELS ROCK THE RINK WITH 4-2 WIN
REGINA, Sask. – Three first period power plays resulted in three goals early in the game Monday night for the Regina Rebels, giving the hometown team the momentum it needed to carry its lead through the next two periods - and skate away with its first win of the tournament.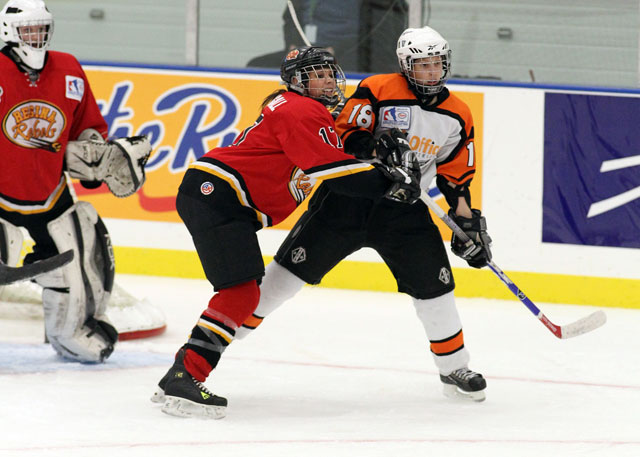 Hockey Canada blogger Jenny MacKnight (Regina, Sask.) opened the scoring on a power play at 6:45 in the first, sending the crowd into the frenzy for the first of many times throughout the game versus the Moncton Rockets. Andrea Ehrmantraut (White City, Sask.) and Nicole Mitchell (Regina, Sask.) were credited with assists.

Power plays would be the key to the game for the host team, with Paige Anakaer (Moose Jaw, Sask.) turning the man advantage into another goal for Regina with a helper from Molly Findlay (Regina, Sask.).

The Rebels kept digging away at the opposition's net throughout the first, with Patricia McGauley (Regina, Sask.) topping off the period with one of her own on passes from MacKnight and Kelsa Duffy (Regina, Sask).

Despite the three goal deficit early on, Atlantic representatives the Rockets stepped onto the ice in the second ready to rebel against the Rebels, and it looked like they had a chance to do exactly that when Josee Cormier (St-Antoine, N.B.) poked away at Regina goalie Samantha Langford (Pense, Sask.) until the puck finally passed the goal line.

But the Rebels weren't about to let that win go in front of their Regina fans, with Kristin Boan (Lumsden, Sask.) taking care of business at 6:48 in the third to give the Esso Cup hosts their fourth and final goal of the night.

The Rockets narrowed the gap with less than five minutes left in the third on a goal from Natalie Cormier (Shediac, N.B.), but it simply wasn't enough to beat the Rebels in their home rink, especially as the crowd erupted into cheers as time ran out on the game.

Natalie Cormier was named Player of the Game for Moncton. MacKnight, who is writing about her Esso Cup experience for hockeycanada.ca this week, received the same honour for hosts the Regina Rebels.
Game Information
Game Number
6
Round
Round Robin
Arena
Co-operators Centre at Evraz Place
City, Country
Regina, Sask., Canada
Month / Day / Year
04/19/2010
Time (local)
07:30 PM CT
Attendance
Game Status
Final
| | | | | |
| --- | --- | --- | --- | --- |
| Box Score | 1 | 2 | 3 | Total |
| Moncton Rockets (ATL) | 0 | 1 | 1 | 2 |
| Regina Rebels (HST) | 3 | 0 | 1 | 4 |
Goals/Penalties
First Period
Goals:

06:45 HST 15 Jenny MacKnight (24 Andrea Ehrmantraut, 16 Kelsa Duffy) PP
12:12 HST 11 Paige Anakaer (18 Molly Findlay) PP
18:21 HST 7 Patricia McGauley (15 Jenny MacKnight, 16 Kelsa Duffy) PP

Penalties:
05:37 HST 24 Andrea Ehrmantraut (Bodychecking)
06:09 ATL 7 Cynthia Léger (Interference)
07:26 HST 12 Adria Gorski (Roughing)
11:03 ATL 19 Josée Cormier (Interference)
16:35 ATL 62 Hayley Reid (Tripping)

Second Period
Goals:

13:47 ATL 19 Josée Cormier (11 Janik Robichaud) PP

Penalties:
04:17 HST 17 Brittany MacDougall (Hooking)
12:19 HST 8 Melissa Folk (Hooking)
13:08 HST 9 Lorissa Thompson (Cross Checking)
15:05 HST 10 Tayler Kosloski (Tripping)
17:01 ATL 11 Janik Robichaud (Slashing)
19:37 ATL 5 Brittney Letourneau (Interference)

Third Period
Goals:

04:37 ATL 8 Natalie Cormier (22 Chelsea MacNeil, 18 Katherine Richard) PP
06:48 HST 19 Kristin Boan (24 Andrea Ehrmantraut, 20 Nicole Mitchell)

Penalties:
04:25 HST 11 Paige Anakaer (Hooking)
11:56 ATL 14 Becky Bowes (Roughing)
17:59 HST 12 Adria Gorski (Tripping)

Goaltenders
Moncton Rockets

| | | |
| --- | --- | --- |
| 20 Pascale Daigle | On 1/00:00 | Off 1/20:00 |
| 1 Meagan Blacquière | On 2/00:00 | Off 3/20:00 |

Regina Rebels

| | | |
| --- | --- | --- |
| 1 Samantha Langford | On 1/00:00 | Off 3/20:00 |
| | | | | |
| --- | --- | --- | --- | --- |
| Shots on Goal | 1 | 2 | 3 | Total |
| Moncton Rockets | 6 | 8 | 13 | 27 |
| Regina Rebels | 8 | 7 | 14 | 29 |
Player of Game
Moncton Rockets
8 Natalie Cormier
Regina Rebels
15 Jenny MacKnight
Officials
Referee
Melodie Boulet
Lines People
Haley Wieler, Michelle Stapleton
Goal Judge
Al Schaefer, Howard Todd