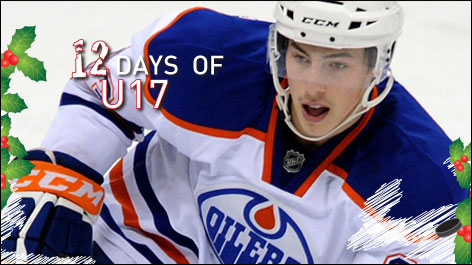 12 – FIRST-OVERALL NHL PICKS
The World Under-17 Hockey Challenge is a coming-out party for young stars, the first chance to make an impression on the international scene, and often the first stop on the road to an NHL career. For a select few, it's the first step towards hearing their name called as the first pick in the NHL Entry Draft.
In the 17 NHL drafts since 1995 – when most of this year's competing players were born – 12 under-17 alumni have had that honour – Bryan Berard (1995), Joe Thornton (1997), Vincent Lecavalier (1998), Ilya Kovalchuk (2001), Rick Nash (2002), Marc-André Fleury (2003), Alexander Ovechkin (2004), Erik Johnson (2006), Patrick Kane (2007), John Tavares (2009), Taylor Hall (2010) and Ryan Nugent-Hopkins (2011). Of that group, only Kovalchuk, Thornton and Hall pulled off the gold medal/first pick double; Kovalchuk won gold with Russia in 2000, while Thornton and Hall took home the top prize with Ontario in 1995 and 2008, respectively.
The only two top picks in the last 10 years not to make the list? Sidney Crosby (2005), who played in the Canada Winter Games as a 15-year-old in 2003 and with Canada's National Junior Team in 2004, and Steven Stamkos (2008), who won gold with Ontario at the 2007 Canada Winter Games.
---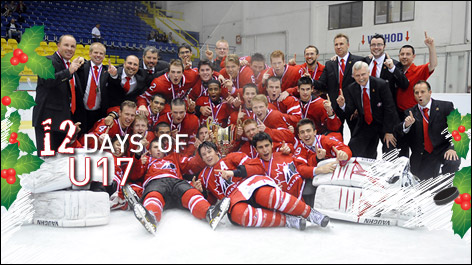 11 – SUMMER UNDER-18 GOLD MEDALLISTS
Since first crossing the Pacific for the 1991 Phoenix Cup in Yokohama and Sapporo, Japan, Canada's National Men's Summer Under-18 Team has been dominant in summer tournaments, winning 16 of 21 gold medals, including a run of seven in a row from 1996 to 2002.
Gold medal No. 16 came last August, when a Canadian roster that included 11 members of Ontario's gold medal-winning team from the 2011 World Under-17 Hockey Challenge (Altshuller, Athanasiou, Campagna, Gaunce, Koekkoek, Laughton, Marcantuoni, Monahan, Pelech, Rychel, Wilson) rebounded from a tournament-opening loss to Sweden to outscore its opponents 21-2 over its final four games, capped off by a 4-1 win over the Swedes in the gold medal game.
How important were the Ontarians to Canada's gold medal? Of the four Canadian goals scored in the final, three came from U17 gold medallists (Sean Monahan, Scott Laughton and Brendan Gaunce), while Gaunce and Mathew Campagna added assists and Daniel Altshuller earned the victory in goal.
---
10 – INTERNATIONAL ENTRIES
While the World Under-17 Hockey Challenge has long been an opportunity for Canadian hockey fans to see the future of their country's game, the tournament is also the first chance for many international stars to make their first impression in the birthplace of the game.
At the first U17 event in 1986, while the attention was on Canadian up-and-comers like Turgeon, Shanahan and Sakic, the Soviet Union came to Quebec with a roster that included Sergei Fedorov, Alexander Mogilny and Dmitri Khristich, eventually taking home silver. Two years later, the tournament produced the first-ever European U17 alumnus to be selected first in the NHL draft, Sweden's Mats Sundin.
In the 17 tournaments since 1986, 10 countries outside of Canada have stepped on the ice – the Czech Republic, Czechoslovakia, Finland, Germany, Norway, Russia, Slovakia, the Soviet Union, Sweden and the United States – with only four taking home gold – the Soviet Union (1988), Finland (1990), the United States (1994, 1998, 2006, 2008) and Russia (2000).
---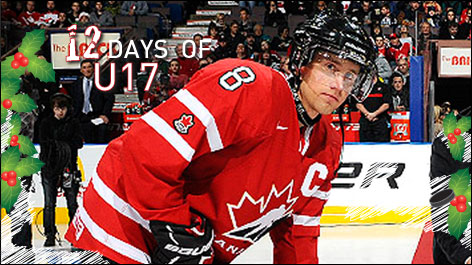 9 – NATIONAL JUNIOR TEAM CAPTAINS
While many of the players selected each year to Canada's National Junior Team are leaders, there can only be one who wears the 'C' as Canadian captain when the first puck drops on Boxing Day to kick off the IIHF World Junior Championship.
In the last decade, including this year's tournament, nine World Under-17 Hockey Challenge alumni have served as Canada's captain – Scottie Upshall (2003), Dan Paille (2004), Michael Richards (2005), Karl Alzner (2007), Kris Letang (2008), Thomas Hickey (2009), Patrice Cormier (2010), Ryan Ellis (2011) and Jaden Schwartz, who will captain Canada at the 2012 World Juniors in Alberta.
In all, 15 U17 alumni have been Canadian captains, with Eric Desjardins (1989), Dave Chyzowski (1990), Steve Rice (1991), Todd Harvey (1995), Brad Larsen (1997) and Manny Malhotra (2000) joining the above list of names. In those 15 years, Canada has won eight World Junior gold medals.
---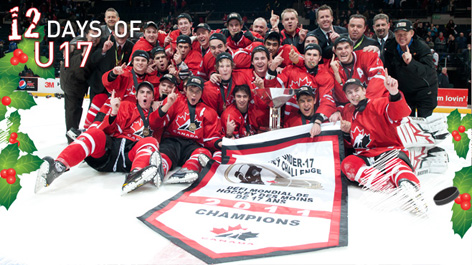 8 – ONTARIO GOLD MEDALS
With a roster that included future NHLers Shean Donovan, Chris Gratton, Todd Harvey, Ethan Moreau and Jamie Storr, it was little surprise Ontario earned its first U17 gold medal at the 1992 tournament in Sudbury, Ont., the first under-17 tournament held outside of Quebec.
That victory started an impressive run of success that saw Ontario win gold at three of the next four tournaments – in 1996, 1997 and 1998 (a five-team split event). With four of the first nine gold medals awarded, that alone would have been enough for Ontario to be the most successful U17 team ever.
But a 2004 gold behind names like Cogliano, Downie, Parent and Staal, back-to-back titles in 2008 and 2009 thanks to Ellis, Gudbranson, Hall and Seguin and a 2011 gold led by Curcuruto, Koekkoek and Monahan put Ontario in a class all its own – eight U17 gold medals, twice the total of any other team (the United States is second with four gold medals).
---
7 – WINDSOR SPITFIRES ALUMNI
In the 26 years of the World Under-17 Hockey Challenge, seven players have worn the Team Ontario jersey while members of the Windsor Spitfires, trading in the red, white and blue of Windsor for the red and white of Team Canada.
Jamie Allison was the first, winning Ontario's inaugural gold medal in 1992 in Sudbury, the first U17 tournament to be held in Ontario. Since Allison, Jeff Martin (1995), Craig Kennedy (2000), John-Scott Dickson (2001), Steve Downie (2004), Ryan Ellis (2008) and Taylor Hall (2008) have also represented Ontario as Spitfires.
With two Spitfires on this year's roster – Adam Bateman and Jordan Maletta – Ontario should be in line for a podium berth; in the six previous World Under-17 Hockey Challenges to include Windsor representation on Team Ontario, it has taken home four gold medals (1992, 1995, 2004, 2008), one silver (2000) and a bronze (2001).
---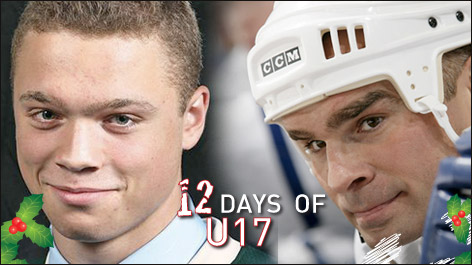 6 – SONS OF FORMER NHLERS
Every year, Canadian rosters at the World Under-17 Hockey Challenge are dotted with the sons of former NHLers. Last year it was Griffin Reinhart (Pacific, son of Paul) and Kerby Rychel (Ontario, son of Warren); two years ago Carter Sandlak (Ontario, son of Jim) and Adam Lowry (Pacific, son of Dave) were the famous offspring.
The 2011 tournament is no different, with a half-dozen players following in the hockey footsteps of their famous fathers. For Pacific, Sam Reinhart becomes the third of Paul's three sons to wear the red and white, joining Max (2009) and Griffin (2011).
Other notable names include Daniel Audette (Quebec, son of Donald), Cole Cassels (Ontario, son of Andrew), Max Domi (Ontario, son of Tie), Jackson Houck (Pacific, son of Paul) and Matthew Needham (Pacific, son of Mike). Needham is the only one that has a Stanley Cup ring in the family tree – Mike played five playoff games with Pittsburgh during its run to the championship in 1992.
---
5 – CANADIAN TEAMS
Since the first puck dropped at the World Under-17 Hockey Challenge in 1986, while the international entries have changed, one thing has remained constant – Canada has been represented by five regional teams.
The country's best up-and-coming 16-year-olds have suited up for Atlantic (New Brunswick, Newfoundland and Labrador, Nova Scotia, Prince Edward Island), Ontario, Pacific (Alberta, British Columbia, Yukon), Quebec and West (Manitoba, Northwest Territories, Nunavut, Saskatchewan), getting their first taste of international competition and first experience with Hockey Canada's Program of Excellence.
Since that first tournament 26 years ago, 19 gold medals have been awarded (including two in 1998), and Canadian teams have won 13 of them, a 68 per cent success rate. In all, only once has a U17 gold medal game not featured a Canadian team (Sweden vs. Soviet Union in 1988), and four times the final has been an all-Canadian match-up.
---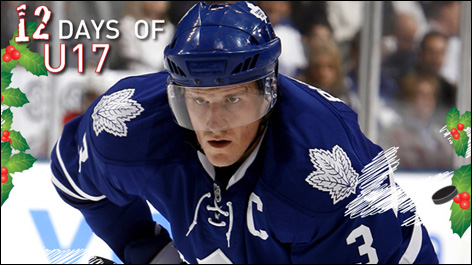 4 – CANADIAN NHL CAPTAINS
In hockey, there are few honours greater than getting to wear the 'C' as captain of your team. To captain a Canadian NHL team is an even greater honour, following in the footsteps of players such as Trevor Linden, Wayne Gretzky, Lanny McDonald, Wendel Clark and Jean Béliveau.
This year, only seven players have such an opportunity, and four of them are alumni of the World Under-17 Hockey Challenge – Brian Gionta (Montreal – United States, 1995), Jarome Iginla (Calgary – Pacific, 1994), Dion Phaneuf (Toronto – Pacific, 2002) and Henrik Sedin (Vancouver – Sweden, 1997).
In total, 13 of the 30 players who currently wear the 'C' with their NHL teams played in the World Under-17 Hockey Challenge, a list that includes eight 2010 Olympic gold medallists: Ryan Getzlaf, Iginla, Eric Staal, Jonathan Toews, Rick Nash, Brendan Morrow, Joe Thornton and Shea Weber.
---
3 – ESSEX COUNTY ARENAS
While the WFCU Centre in Windsor will get much of the attention during the 2012 World Under-17 Hockey Challenge, particularly come Jan. 4, when TSN broadcasts the gold medal game across the nation from the home of the Windsor Spitfires, the rest of Essex County won't be left watching from afar during the tournament.
In total, three arenas will have the chance to host under-17 action. In addition to the WFCU Centre, which will host preliminary round action, both semifinals and the medal games, the Vollmer Culture & Recreation Complex in LaSalle and Tecumseh Arena will welcome preliminary round and placement games between Dec. 29 and Jan. 3.
And don't forget exhibition action; along with Windsor, LaSalle and Tecumseh, two more venues – the UCCU Complex in Amherstberg and Essex Centre Sports Complex in Essex – will welcome exhibition games Dec. 28., giving fans all across Essex County the opportunity to see the future of Canada's game in action.
---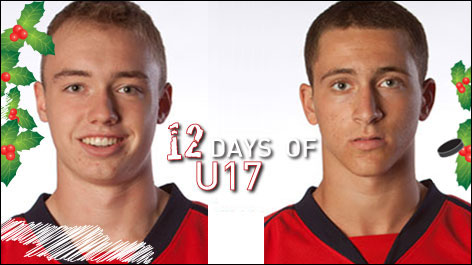 2 – WINDSOR SPITFIRES
One of the added benefits of the World Under-17 Hockey Challenge – apart from the opportunity to wear the Team Canada jersey and play against the very best in international hockey – is the chance for players to travel across the country, to see how hockey affects Canadians in other cities and provinces.
But for two members of Team Ontario, Adam Bateman and Jordan Maletta, it'll be a short trip to this year's tournament. In fact, the two won't even leave their home rink – they're starring this season as 16-year-olds with the Windsor Spitfires; Maletta was the 13th overall pick by the Spitfires in the 2011 OHL Priority Selection, while Bateman went 19th to Niagara before being traded to Windsor.
The two Spitfires (a third Windsor prospect, goaltender Jordan DeKort, is on the Ontario roster but playing with LaSalle of the GOJHL) hope to duplicate the feat of the last OHL player to play in the World Under-17 Hockey Challenge in his home building – Michael Zador of the London Knights helped Ontario win gold in 2008.
---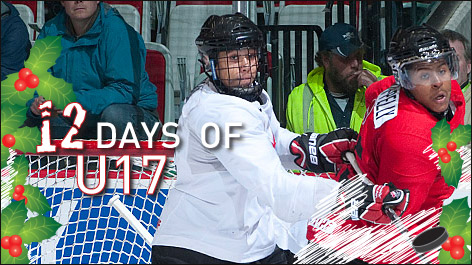 1 – WORLD JUNIOR CAMP INVITE
Canada's Program of Excellence was instituted to give players international experience over the course of their junior careers – from 16, when they play in the World Under-17 Hockey Challenge, to 19, when they would represent their country at the IIHF World Junior Championship.
So while most players don't reach the World Juniors for three years, and the top-end players do it in two, Matt Dumba tried this year to join an exclusive club – those who played at the World Juniors less than one calendar year after strutting their stuff at the U17 level.
Dumba was the lone player from last year's World Under-17 Hockey Challenge to receive an invite to this month's National Junior Team Sport Chek Selection Camp, and while the defenceman didn't make the final cut – missing out on the chance to join recent names like Ellis, Tavares, Gagner and Toews as 17-year-olds on Team Canada – Dumba is a name Canadian hockey fans should get used to hearing.