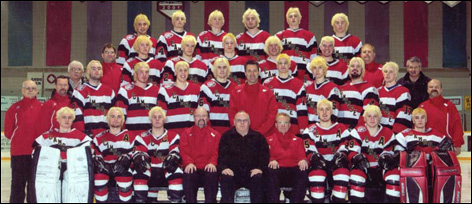 CAMROSE KODIAKS (PACIFIC) OVERVIEW
For the fourth time in seven years, the Camrose Kodiaks will play for the National Junior A Championship. RBC Royal Bank Cup champions in 2001 and runners-up in 2003 and 2005, the Kodiaks have established themselves as arguably the country's top Junior A franchise. Although they failed to win the Alberta Junior Hockey League's regular season
championship – they finished a single point behind the Fort Saskatchewan Traders – the Kodiaks won 12 of 17 in the postseason to win their fourth AJHL Championship, capped off by a six-game series win over the Traders in the AJHL Final. Camrose used the scoring-by-committee approach in 2006/07, as six players scored more than 40 points. The
Kodiaks' leading scorer, Chris Barton, finished with 61 (23 goals, 38 assists), 42 points behind AJHL scoring champion Dustin Sather of Grande Prairie. As good as their offense was – they scored 240 goals, good for third in the AJHL – Camrose's defense was even better, allowing an AJHL-low 140 goals, or 2.3 per game. Allen York and Keanan Boomer split the goaltending duties during the regular season, and both finished in the top four in the AJHL in goals against average, with York's 2.17 mark good for third, slightly ahead of Boomer's 2.38. After a first-round bye, the Kodiaks dropped the Olds Grizzlys in five games and dispatched the Grande Prairie Storm in six before knocking off the Traders. Facing off with the BCHL-champion Nanaimo Clippers in the Doyle Cup, the Kodiaks dropped a 1-0 heartbreaker in Game 1 before reeling off four straight wins to punch their ticket to Prince George.
KODIAKS STAY UNDEFEATED
WITH WIN OVER STEELERS
» more | Photo Gallery
Saturday, May 12, 2007 / 7:00 PM PST
Prince George Spruce Kings - HST 3
vs. Camrose Kodiaks - PAC 2
Semi-Final » more | Photo Gallery
KODIAKS STILL PERFECT
AFTER WIN OVER LUMBER KINGS
Scott Kobialko's goal 45 seconds into the game stood up as the winner as the Camrose Kodiaks topped the Pembroke Lumber Kings 3-0 on Wednesday afternoon at CN Centre in Prince George, BC, moving to 3-0 at the 2007 RBC Royal Bank Cup.
» more | Photo Gallery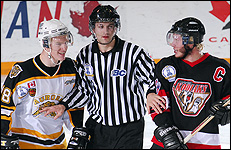 TIGERS TOP KODIAKS, TAKE TOP SPOT IN ROUND ROBIN
The Aurora Tigers used a quick start and a third-period flurry to knock off the Camrose Kodiaks 7-4 on Thursday afternoon, a win that allowed them to finish in first place in the round robin at the 2007 RBC Royal Bank Cup. » more | Photo Gallery
KODIAKS REBOUND FROM SLOW START TO TOP SPRUCE KINGS
Karl Stollery scored the game-winning goal on a 5-on-3 powerplay just 29 seconds into the third period, helping the Camrose Kodiaks to a 4-2 win over the host Prince George Spruce Kings on Sunday night at CN Centre. » more | Photo Gallery
COOK LOOKS FOR RARE RBC ROYAL BANK CUP DOUBLE
Very few players get the opportunity to win back-to-back National Junior A Championships. Even fewer get the chance to do it as captain, which makes what Brady Cook is trying to do all the more special.
» more