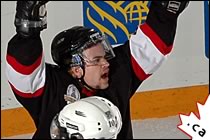 The Camrose Kodiaks established themselves as the frontrunners at the Royal Bank Cup with a dominant 6-2 victory over the Portage Terriers Monday afternoon.
The Kodiaks peppered Terriers goaltender Stan Gregorowich with 41 shots on their way to improving their record to 2-0. Three days into the tournament, they are the only undefeated team left.
The Terriers burst out of the gate with a physical style of play, but penalty trouble allowed the Kodiaks' forwards room to roam. Only the standout play of Gregorowich kept the Kodiaks off the scoreboard during their first two power plays. In one sequence, the Portage goalie slid to his left to take a one-timer by Camrose winger Mason Raymond of his mask, and then slid back to his right to rob Kodiaks captain Travis Friedley on another slapper.
Camrose finally solved Gregorowich on their third power play as their top line connected for a goal. Chance Olsen kicked a rebound from his skate to his stick and coolly slid it between Gregorowich's legs. Linemates Mason Raymond and Kyle Parkes picked up the assists.
Camrose made it 2-0 less than two minutes later, when Logan Gorsalitz banked in a point shot off a defender in front of the net. The Kodiaks absolutely dominated the period, outshooting Portage 17-6.
The Terriers drew within a goal at 5:06 of the second after Camrose forward Jason Roberts was sent of for four minutes for spearing. A point shot by Felice Turano was wide by a foot, but the puck bounced off end boards directly to Colin Slobodian standing all alone at the other side of the net.
But Mason Raymond got that goal back at 7:24, when he sped in on the right wing and flicked a shot over Gregorowich's left shoulder. Travis Friedley made it 4-1 less than a minute later, and the rout was on. The Kodiaks would add one more goal by Friedley before the second intermission. For the second straight period, they outshot the Terriers by a 17-6 margin.
The Terriers acquitted themselves better in the third, outshooting Camrose 10-7, but the Kodiaks were on cruise control. The teams exchanged goals, with Kip Workman scoring for Portage and Jason Roberts replying for Camrose.
Players of the game were Chance Olsen for Camrose and Chris Benias for Portage.
By Dan Kinvig

| | | | | | |
| --- | --- | --- | --- | --- | --- |
| Box Score | PAC | 2 | 3 | 1 | 6 |
| Compte | WST | 0 | 1 | 1 | 2 |
First Period/Première période
Scoring/Buts:
PAC 1, Olsen, (2) (Raymond, Parkes), 14:30 (PP)
PAC 1, Gorsalitz, (1) (Steil, Jubinville), 15:28
Penalties/Pénalités:
WST 1 - Thorkelson, 4:21 - Hooking, 2min (PP)
WST 1 - Jackman, 9:59 - Slashing, 2min (PP)
WST 1 - Thorkelson, 13:53 - Tripping, 2min (PP)
PAC 1 - Boyd, 18:40 - Tripping, 2min (PP)
Second Period/Deuxième période
Scoring/Buts:
WST 2, Slobodian, (2) (Turano), 05:06 (PP)
PAC 2, Raymond, (1) (Olsen, Jubinville), 07:24 (PP)
PAC 2, Friedley, (1) (Wolbeck, Harsulla), 08:06
PAC 2, Friedley, (2) (Raymond, Olsen), 14:30 (PP)
Penalties/Pénalités:
WST 2 - Bouchard, 6:50 - Elbowing, 2min (PP)
WST 2 - Patsack, 10:16 - Slashing, 2min (PP)
WST 2 - Haddon, 12:29 - Slashing, 2min (PP)
WST 2 - Thorkelson, 12:29 - Unsportsmanlike Cnd., 2min
WST 2 - Turano, 13:28 - Inter. on Goaltender, 2min (PP)
WST 2 - Thorkelson, 15:40 - Major-Fighting, 5min
WST 2 - Thorkelson, 15:40 - Game Misconduct, 10min
WST 2 - Turano, 19:28 - Roughing, 2min (PP)
WST 2 - Turano, 20:00 - 10-Minute Misconduct, 10min
PAC 2 - Roberts, 1:15 - Spearing, 2min (PP)
PAC 2 - Roberts, 1:15 - Spearing, 2min (PP)
PAC 2 - Parkes, 12:29 - Unsportsmanlike Cnd., 2min
PAC 2 - Bock, 15:40 - Major-Fighting, 5min
PAC 2 - Bock, 15:40 - Game Misconduct, 10min
PAC 2 - Gorsalitz, 20:00 - Boarding, 2min (PP)
Third Period/Troisième période
Scoring/Buts:
WST 3, Workman, (1) (Benias, Jackman), 04:28 (PP)
PAC 3, Roberts, (1) (Parkes), 11:21
Penalties/Pénalités:
WST 3 - Kliewer, 16:25 - Cross Checking, 2min (PP)
PAC 3 - Stockwell, 3:53 - Tripping, 2min (PP)
PAC 3 - Gorsalitz, 13:18 - Hooking, 2min (PP)
Goaltenders
PAC
David Thompson
Gardiennes de but

WST

Stan Gregorowich

---

Referee/Arbitre
Todd Sharpe
Linesmen/Juges des lignes

Nathan Wieler, Ian Schafer