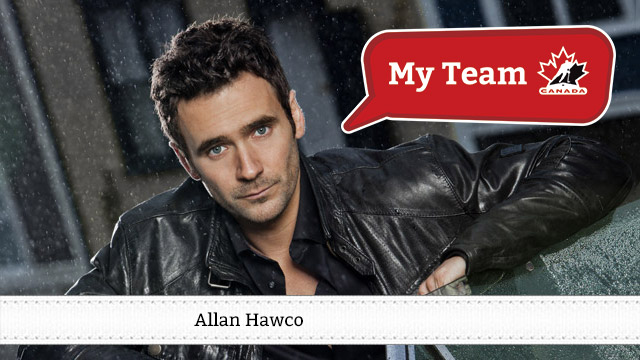 Allan Hawco is a Newfoundland-born actor, writer, producer and a graduate of the National Theatre School of Canada in Montreal. He is most recognized from his lead role as Jake Doyle on the CBC hit series Republic of Doyle, of which he is also co-creator, showrunner, executive producer and head writer.
Hawco is the co-founder of the Toronto-based theatre company, "The Company Theatre," where he garnered rave reviews as the star in its inaugural production of Tom Murphy's Whistle in the Dark. He starred in some of the most acclaimed television productions in Canada, including ZOS: Zone of Separation, political thrillers H2O and Trojan Horse, as well as the World War II drama Above & Beyond, and his feature film credits include a supporting lead in Sir Richard Attenborough's Closing the Ring (2007) with Christopher Plummer and Shirley MacLaine.
A die-hard Toronto Maple Leafs fan, Hawco continues to play regularly in several leagues around St. John's, and created a Republic of Doyle team, consisting of cast members, producers, and crew from the series.
Goaltenders
Roberto Luongo

James Reimer

Cam Ward


WHY?: Luongo is a gold medallist from 2010, and one of my favourite players; he's got the experience, and he's earned his chance to be on the roster. Ward is a Conn Smythe winner, the first rookie goalie to lead his team to a Stanley Cup since Patrick Roy, and Eric Staal took him first in the all-star draft in 2011. That's good enough for me. Reimer is a Leaf, and there's no way I'm picking Carey Price! But he's a better goalie than anyone gives him credit for; trust me, I watch him play A LOT.


Defencemen
Drew Doughty

Duncan Keith

Kris Letang

Dion Phaneuf

Alex Pietrangelo

Brent Seabrook

P.K. Subban

Shea Weber


WHY?: You have to go with guys who helped you four years ago, so Doughty, Keith, Seabrook and Weber are back. Doughty is the full-meal deal; a solid player, great off the rush. Keith is the best in the game; if you don't love him after you watched his teeth get knocked out and then go on to lead the Hawks to a Stanley Cup, then you have bigger problems than I can help you with. Have you ever had a tooth knocked out? It hurts. Now, imagine having all of them knocked out, and then finishing your shift. And then winning the Cup. And never complaining about it. Seabrook is there when you need him, and why in God's name would you separate Keith and Seabrook? Weber will scare the hell out of anyone we face. Hard shot, scores goals, hits hard. What else do you want? Subban will do what it takes to win. And yes, I know he's a Hab; gotta pick one, I suppose. Letang is a great player; hockey hair, the whole works. And he's super fast. Pietrangelo does it all; he's a top guy in the league, and he's only 23. Do it. And then there's Phaneuf. He deserves to be on this list, and it's not just because I'm a Leafs fan!


Forwards
Patrice Bergeron

Sidney Crosby

Matt Duchene

Ryan Getzlaf

Claude Giroux

Rick Nash

Corey Perry

Ted Purcell

Mike Richards

Jason Spezza

Eric Staal

Steven Stamkos

John Tavares

Jonathan Toews


WHY?: There are some pretty easy picks up front; you can't really go wrong. Stanley Cup champions, Hart Trophy winners, eight guys back from the 2010 team. We're in pretty good shape up front. I think Purcell should be there, and not just because he's my buddy and a Newfoundlander. It's because he's one of the best in the league. It's no secret he is famous for having one of the best sets of hands in the game, but he's great under pressure and works like a dog. He's a fella you want in the room as well as on the ice.