My Team Canada - Justin Snith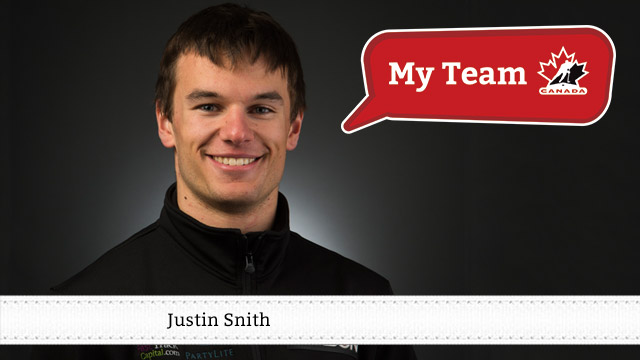 Young and inexperienced would have been the two most likely adjectives to describe Justin Snith when he made his Olympic debut in 2010 along with partner Tristan Walker. At 18, he was one of the youngest members of the Canadian Olympic Team and he and Walker were the youngest luge doubles team in the field. They hadn't yet competed at a senior world championship, but placed 15th of the 20 sleds competing in Whistler.
A Calgary native, Snith got into luge because it was an individual sport and he wanted to do something where he only had to rely on himself. But his mind was changed after he and Walker won a bronze medal in their very first Junior World Cup event in Park City, Utah, and bronze at the 2009 world junior championships.
Snith and Walker have shown gradual improvement since Vancouver and had the best year of their careers in 2012-13. They posted top-10 results in each of their World Cup starts, highlighted by fourth place finishes at Lake Placid and on the 2014 Olympic track in Sochi. They also finished fourth at the 2013 World Championships in Whistler.
Goaltenders
Corey Crawford
Roberto Luongo
Cam Ward


WHY?: Crawford has really come to the forefront, especially in the last year with Chicago winning the Cup. Luongo is there based on his performance in Vancouver, knowing what it takes to win, and Ward has been flying under the radar, but could find his way into the team.


Defencemen
Jay Bouwmeester
Drew Doughty

Duncan Keith

Kristopher Letang

Brent Seabrook

PK Subban

Alex Pietrangelo

Shea Weber


WHY?: Keith and Seabrook were easy picks. They play together in Chicago, won gold in Vancouver. Bouwmeester is there for his skating, especially on the big ice. Subban I see as a power play threat; he may be a bit of a defensive liability, but he's there for his offensive potency. Letang and Pietrangelo are two of the best young defencemen in the game, and Doughty and Weber can both do it all; they can play on the power play or penalty kill, score goals or be shutdown guys, and, of course, they were both in Vancouver.


Forwards
Patrice Bergeron
Jeff Carter
Sidney Crosby
Ryan Getzlaf

Claude Giroux

Andrew Ladd

Rick Nash

Corey Perry

Michael Richards

Martin St. Louis

Eric Staal
Steven Stamkos
Joe Thornton

Jonathan Toews


WHY?: Stamkos, Crosby and Giroux … three highly-skilled guys, tough to stop offensively. St. Louis, Toews and Carter … Toews is one of the best centres in the league, and is a winner. St. Louis has Olympic experience, and his skating will be key on the big ice, and Carter knows how to score goals. Getzlaf, Perry and Ladd … this is the energy line. Getzlaf and Perry obviously have good chemistry, can play in different situations, and Ladd isn't much fun to play against, so he'd fit in well with those two. Richards, Thornton and Nash … a veteran line. Thornton is still a terrific all-around centre and one of the best passers in the league, and the other two will feed off that and both use their size and skill. Staal and Bergeron … both Vancouver returnees, can play with any line, and can play in any situation, and their versatility will be key.