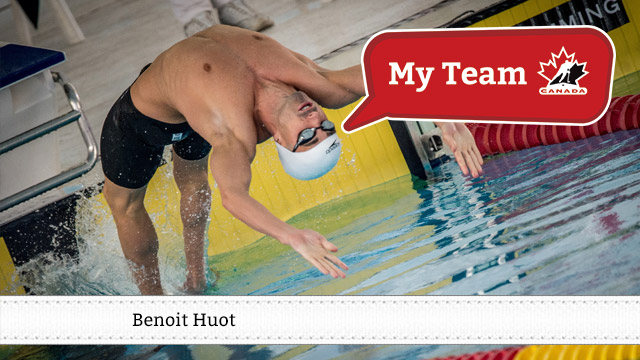 Benoit Huot was the poster boy for 2013 IPC Swimming World Championships in Montreal. In the pool, Huot withstood the pressure as the hometown favorite, winning the gold medal in the S10 200-metre individual medley, just 0.33 seconds off his world record. He also capitalized on his celebrity status to tour the media to discuss the competition and Paralympic sport, sharing his dream to see a Paralympic medal valued as much as an Olympic medal in the eyes of the public.
The Longueuil, Que., native was Canada's flag bearer for the Closing Ceremony of the 2012 Paralympic Summer Games in London after winning gold in the SM10 200-metre individual medley – setting a world record in the process – silver in the S10 400-metre freestyle and bronze in the S10 100-metre backstroke, increasing his career Paralympic medal total to 19, to go along with 22 at the world championships.
Huot, whose disability is club-feet, started swimming competitively at age 10 with Hippocampe de St-Hubert, competing alongside able-bodied swimmers. He remembers crying after finishing seventh at his first meet, but eventually competed at two Quebec Games, earning silver in 1997.
Goaltenders
Martin Brodeur

Roberto Luongo

Carey Price


WHY?: Luongo won gold in 2010, and Price is a young guy, one of the top guys out there, and it's his turn. Brodeur is a long shot, but I like him, and he's won two gold medals. As a third goalie, you usually take a young guy, but he's the best ever.


Defencemen
Jay Bouwmeester

Dan Boyle

Drew Doughty

Duncan Keith

Alex Pietrangelo

Brent Seabrook

P.K. Subban

Shea Weber


WHY?: When you're the general manager, you pick not only the best team, but the best chemistry; a guy like Subban is great on paper, won the Norris last year, but on the ice, who knows. Boyle, Weber, Doughty, Seabrook and Keith were all there in Vancouver, and are still among the best in the game. They'll bring experience. The other two guys bring something different … youth, experience, solid defensive play, offensive skill, skating. It's a great mix.


Forwards
Patrice Bergeron

Jeff Carter

Logan Couture

Sidney Crosby

Ryan Getzlaf

Milan Lucic

Rick Nash

Corey Perry

Martin St. Louis

Patrick Sharp

Eric Staal

John Tavares

Joe Thornton

Jonathan Toews


WHY?: There's so much skill, so many guys that could easily be on, or easily be off, depending what kind of team Yzerman wants. Crosby, Toews and Tavares are the best Canadian centres in the game, so you need to have them there. Plus Toews has two Stanley Cups, so he knows how to win. Crosby will be the captain. Bergeron was a key guy in Vancouver, and he's even better now, and Lucic is a big, tough, talented guy whose physical play will be important. Nash and Thornton have experience; they always step up their game in the Team Canada sweater. St. Louis brings a veteran presence, and has shown he knows how to put up points. Staal has big game experience, winning a Stanley Cup and Olympic gold. Sharp is a Stanley Cup winner, has earned his spot over the last few years. Carter has won before with Team Canada, and Couture is one of the best young players in the game. Getzlaf and Perry … you can't have one without the other; they feed off each other, were terrific in 2010, and are leading a very good Anaheim team this season. I know that change can be a good thing, but if the players who helped in 2010 are still among the best, that core needs to be there.