My Team Canada - David Hearn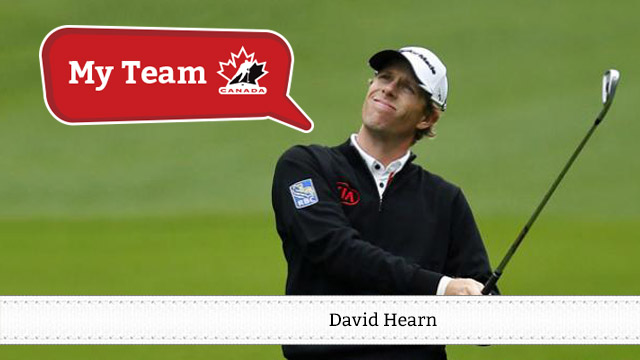 David Hearn grew up in Brantford, Ont. Recognized for his sharp short game and consistent play, Hearn has had a long and successful career spanning several professional tours, including wins on both the PGA Tour Canada and Web.com Tour in his early career.
Hearn has had three solid seasons since returning to the PGA Tour in 2011. In 2013, he recorded seven Top 25 finishes, including a second-place finish at the 2013 John Deere Classic. He also won the Rivermead Cup at the 2013 RBC Canadian Open, which recognizes the low-Canadian for the tournament.
Hearn attended the University of Wyoming, where he studied psychology. He is a hockey fanatic who loves the Toronto Maple Leafs. For the past two years, David has hosted the David Hearn Golf Classic in support of The Hamilton and Halton Alzheimer Foundation. David is also a huge family man; he and his wife have a daughter, who loves sharing David's Tim Hortons muffin.
Goaltenders
Corey Crawford

Marc-André Fleury

Roberto Luongo


WHY?: It is a short tournament, so having the hot goalie for those two weeks can make the difference for any team. I think the only real sentimental pick for me was Luongo. He has been given a bit of a bad rap recently, however he is still a great goalie and was the goalie that led us to gold at home in 2010!


Defencemen
Jay Bouwmeester

Dan Boyle

Drew Doughty

Duncan Keith

Kristopher Letang

Alex Pietrangelo

Brent Seabrook

Marc-Édouard Vlasic


WHY?: I feel like it is important to pick the best players, but also players who have played together a lot to help the team come together faster. This is especially true with defensive pairs.


Forwards
Patrice Bergeron

Logan Couture

Sidney Crosby

Ryan Getzlaf

Chris Kunitz

Milan Lucic

James Neal

Corey Perry

Martin St. Louis

Patrick Sharp

Steven Stamkos

John Tavares

Joe Thornton

Jonathan Toews


WHY?: With forwards it is a challenge, as we are so deep, it is really hard to leave good players off the team who you know can make a difference. I think going with players with a mix of experience and the hot hand is important.