O'BRIEN SAVES BEST FOR LAST

LÉVIS, QUE. – It's not how many you score but when you score them. Just ask Liam O'Brien.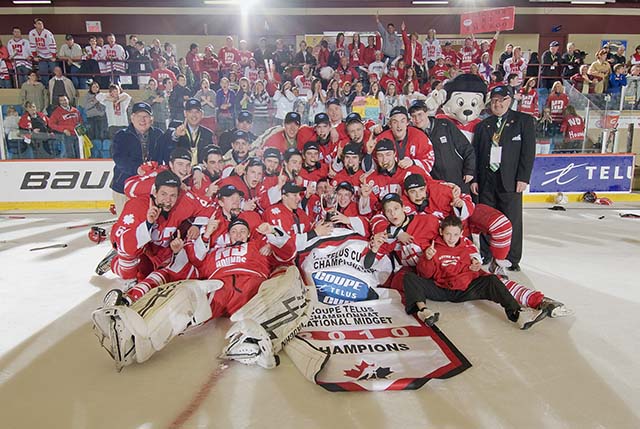 The Halifax native went goalless throughout the week at the 2010 TELUS Cup. That is, until, the 7:56 mark of the third period of the gold medal game when O'Brien scored the go-ahead goal to give the Notre Dame Hounds a 3-2 victory over the Mississauga Reps.

It is Notre Dame's second-straight TELUS Cup title and fourth National Midget Championship of all-time. That ties the Regina Pat Canadiens for most titles all-time.

O'Brien's goal sent another pro-Notre Dame crowd into a collective roar. The goal came just under three minutes after Erick Locke (Toronto, Ont.) scored his second goal of the game for Mississauga to tie the game at 2-2.

Marcus Messier (Canmore, Alta.) gave the Hounds a one-goal lead earlier in the third period, when his power play marker made it 2-1. The teams exchanged goals in the first period, with Locke opening the scoring and tournament MVP Slater Koekkoek (Mountain, Ont.) tying things up later in the frame.

Malcom Subban was the story of this final, despite being the losing goaltender. Subban made 55 saves in the Mississauga net to keep his team in the game.

This was Mississauga's first trip to the National Midget Championship.
Game Information
Game Number
19
Round
Gold Medal
Arena
Aréna de Lévis
City, Country
Lévis, Que., Canada
Month / Day / Year
04/25/2010
Time (local)
02:30 PM ET
Attendance
Game Status
Final
| | | | | |
| --- | --- | --- | --- | --- |
| Box Score | 1 | 2 | 3 | Total |
| Mississauga Reps (CEN) | 1 | 0 | 1 | 2 |
| Notre Dame Hounds (WST) | 0 | 1 | 2 | 3 |
Goals/Penalties
First Period
Goals:

10:10 CEN 55 Eric Locke (13 Wes Deme) PP

Penalties:
07:34 CEN 13 Wes Deme (Tripping)
09:35 WST 7 Liam O'Brien (Interference)
14:44 CEN 9 Josh Wiley (Delay of Game)

Second Period
Goals:

03:57 WST 20 Slater Koekkoek (16 Yannick Laflamme, 11 Stefan Matteau)

Penalties:
01:54 CEN 74 Zachary Pryzbek (Roughing)
05:33 WST 17 Marcus Basara (Hooking)
19:16 CEN 77 Jake Crow (Roughing After Whistle)
19:16 WST 17 Marcus Basara (Roughing After Whistle)

Third Period
Goals:

02:53 WST 8 Marcus Messier (20 Slater Koekkoek) PP
04:59 CEN 55 Eric Locke (51 Alex D'Oliveira)
07:56 WST 7 Liam O'Brien (15 Daniel Dale, 2 Ryan MacKinnon)

Penalties:
01:20 CEN 74 Zachary Pryzbek (Tripping)

Goaltenders
Mississauga Reps

| | | |
| --- | --- | --- |
| 1 Malcolm Subban | On 1/00:00 | Off 3/18:25 |
| 1 Malcolm Subban | On 3/18:52 | Off 3/19:08 |

Notre Dame Hounds

| | | |
| --- | --- | --- |
| 30 Riley Parker | On 1/00:00 | Off 3/20:00 |
| | | | | |
| --- | --- | --- | --- | --- |
| Shots on Goal | 1 | 2 | 3 | Total |
| Mississauga Reps | 7 | 7 | 11 | 25 |
| Notre Dame Hounds | 22 | 19 | 17 | 58 |
Player of Game
Mississauga Reps
1 Malcolm Subban
Notre Dame Hounds
20 Slater Koekkoek
Officials
Referee
Pierre Lambert