LÉVIS IN COMMAND IN DAY 1 ACTION AT TELUS CUP

LÉVIS, QUE. – The last time the Commandeurs de Lévis played a meaningful hockey game was February 28, the night they dropped a 2-1 decision to lose a best-of-five series to Magog in the Quebec Midget AAA Hockey League.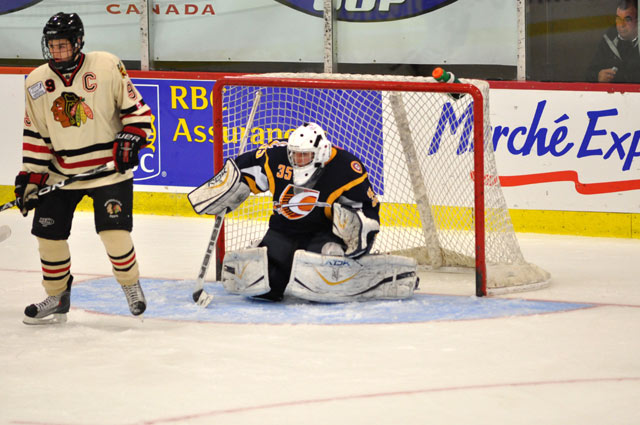 The Commandeurs took to the ice on Monday night versus the Mississauga Reps, six weeks after that loss to Magog, during opening-day action at the 2010 TELUS Cup. No one would have been surprised to see a bit of rust in the Commandeurs' game.

But that wasn't the case. Forty-three seconds into the game, Louis-David Bourgault's shot beat Mississauga goaltender Malcolm Subban to give Lévis a 1-0 lead and the Commandeurs would go on to a 4-1 win over the Reps.

Erick Locke (Toronto, Ont.) got Mississauga on the board at 5:45 of the second period, when he found a loose puck in front of the net and buried it past Derek Clavet (Montmagny, Que.).

The game-changer came in the second period with 5:46 left to play. Frédéric Raymond (Breakeyville, Que.) one-timed a perfect pass from Bourgault past Subban to make it 2-1. Under three minutes later, Bourgault got his second goal and third point of the game to make it 3-1. Clavet made a great save with 19 seconds left in the second period – with Mississauga on a power play – and the host club took a 3-1 lead into the final 20 minutes.

Lévis concluded the scoring with 38 seconds left on a goal by William Pelletier (St-Jean-Chrysostome, Que.).

Lévis is making its second appearance in the TELUS Cup this week. The team won bronze at the 2005 tournament. This season, the Commandeurs went 22-16-2-2 before bowing out in the first round of the QMAAAHL playoffs.
Game Information
Game Number
3
Round
Round Robin
Arena
Aréna de Lévis
City, Country
Lévis, Que., Canada
Month / Day / Year
04/19/2010
Time (local)
07:30 PM ET
Attendance
1040
Game Status
Final
| | | | | |
| --- | --- | --- | --- | --- |
| Box Score | 1 | 2 | 3 | Total |
| Mississauga Reps (CEN) | 0 | 1 | 0 | 1 |
| Commandeurs de Lévis (HST) | 1 | 2 | 1 | 4 |
Goals/Penalties
First Period
Goals:

00:43 HST 13 Louis-David Bourgault (19 William Pelletier, 10 Jean-Christophe Laflamme) PP

Penalties:
00:31 CEN 2 Jordan Auld (Tripping)
04:34 HST 19 William Pelletier (Boarding)
10:10 HST 8 Charles Poulin (Tripping)
13:01 HST 19 William Pelletier (Roughing After Whistle)
13:01 CEN 11 Andreas Tsogkas (Roughing After Whistle)
13:01 HST 5 Keven Drouin (Interference)
14:14 HST 8 Charles Poulin (Cross Checking)
17:54 CEN 27 Chris Rygus (Interference)

Second Period
Goals:

05:45 CEN 55 Eric Locke (11 Andreas Tsogkas)
14:14 HST 7 Frédéric Raymond (13 Louis-David Bourgault)
17:03 HST 13 Louis-David Bourgault (7 Frédéric Raymond)

Penalties:
03:06 CEN 55 Eric Locke (Interference)
07:22 HST 9 Yannick Boucher (Cross Checking)
07:22 CEN 21 Patrick Megannety (Charging)
09:47 HST 22 Bobby Cadorette (Holding)
15:28 HST 10 Jean-Christophe Laflamme (Roughing)
15:28 CEN 77 Jake Crow (Roughing)
18:52 HST 25 Jean-Philippe Marcoux-Tortillet (Tripping)

Third Period
Goals:

19:22 HST 19 William Pelletier (13 Louis-David Bourgault, 10 Jean-Christophe Laflamme) PP

Penalties:
03:46 CEN 11 Andreas Tsogkas (Roughing)
08:03 CEN 4 Gianluca Curcuruto (Tripping)
12:11 HST 4 Louis-Francois Richard (Cross Checking)
17:28 CEN 27 Chris Rygus (Roughing After Whistle)

Goaltenders
Mississauga Reps

| | | |
| --- | --- | --- |
| 1 Malcolm Subban | On 1/00:00 | Off 3/20:00 |

Commandeurs de Lévis

| | | |
| --- | --- | --- |
| 35 Derek Clavet | On 1/00:00 | Off 3/20:00 |
| | | | | |
| --- | --- | --- | --- | --- |
| Shots on Goal | 1 | 2 | 3 | Total |
| Mississauga Reps | 13 | 23 | 9 | 45 |
| Commandeurs de Lévis | 5 | 19 | 10 | 34 |
Player of Game
Mississauga Reps
51 Alex D'Oliveira
Commandeurs de Lévis
35 Derek Clavet
Officials
Referee
Nicolas Leduc
Lines People
Maxime Mongeon-Charr0n, Benoit Vigeant-Sansoucy